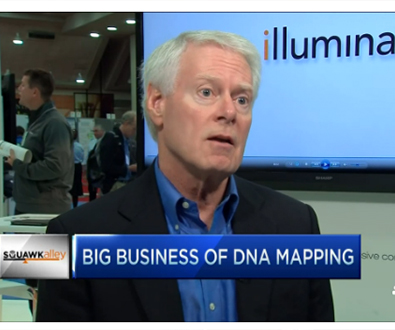 16 December 2015
From high-profile collaboration announcements to numerous awards and acknowledgements and being a key player in making precision medicine a reality, it was another exciting year at Illumina. We take a look back at some of the top media stories that made 2015 memorable.
"Lockheed Martin's latest health partnership is very personal" – The Washington Post, Jan. 13, 2015
Lockheed and Illumina announce a collaboration to study the human genome in order to develop personalized healthcare solutions based on a person's DNA. The partnership is aimed at government clients as well as commercial healthcare companies looking to embark on national-scale genome programs.
"Bio-IT World Recognizes 2015 Best of Show Winners" – Bio-IT World, April 27, 2015
Bio-IT World announces the 2015 winners of the Best of Show Awards Program, which recognizes the best of the innovative product solutions for the life sciences industry. Illumina's NextBio Clinical, which allows pharmaceutical and biotechnology organizations to incorporate data analysis and interpretation into biomarker discovery, research and clinical trials, was the People's Choice winner.
"DNA Sequencing Market Will Exceed $20 Billion, Says Illumina CEO Jay Flatley" – Forbes, April 29, 2015
Luke Timmerman interviews Illumina CEO Jay Flatley about the future of genomics, how the company maintains its edge, and the challenges he sees ahead, not only for Illumina but for the industry as a whole.
"Finding The Right Drug For The Right Person At The Right Time With Companion Diagnostics" – Forbes, May 27, 2015
Barbara Elashoff of MedidataVoice interviews Illumina's vice president of regulatory affairs, Mya Thomae about the current regulatory and development environment for companion diagnostics, a new breed of medical devices that are the backbone for a new approach to personalized care.
"50 Smartest Companies 2015" – MIT Technology Review, June 24, 2015
The publication's annual issue selects Illumina as the third smartest company in the world. According to MIT Technology Review, in order to make the cut, companies must have "innovative technology and a business model that is both practical and ambitious."
"The DNA of a Nation" – Nature, August 26, 2015
Genomics England, which is operated by the UK's National Health Service, is working to sequence 100,000 human genomes by 2017. Illumina was previously selected to handle the sequencing and variant calling for the project and has already sequenced more than 3,000 genomes.
"San Diego Blood Donors Get Free Genome Sequencing" – KPBS San Diego, Nov. 24, 2015
As part of a research study led by the San Diego Blood Bank, Illumina provides whole genome sequencing for 70 San Diego Blood Bank donors who gave an extra tube of blood during an annual blood drive. The Blood Bank's goal is to compile a DNA database that researchers can use to pinpoint genes linked with health outcomes.
"Top 10 Innovations 2015" – The Scientist, Dec. 1, 2015
The magazine's annual list highlights a mix of basic research and clinical tools that could have huge impacts on science and medicine. Illumina's MiSeq FGx Forensic Genomics System came in second this year, as a tool that offers insights into highly degraded DNA samples or mixed samples in forensic evidence, which is normally difficult to tease out using traditional methods.
"Major Players in DNA Market" - CNBC Squawk Alley, Dec. 10, 2015
Meg Tirrell interviews CEO Jay Flatley as she takes a look at Illumina's business as well other companies competing in the genomics space. She also examines how genome sequencing could help define the future of personalized medicine.
"Unlocking my genome: Was it worth it?" – CNBC, Dec. 10, 2015
Meg Tirrell participates in Illumina's Understand Your Genome and has her whole genome sequenced. She details what she learned during the process and examines how the information can potentially help make personalized care a reality.