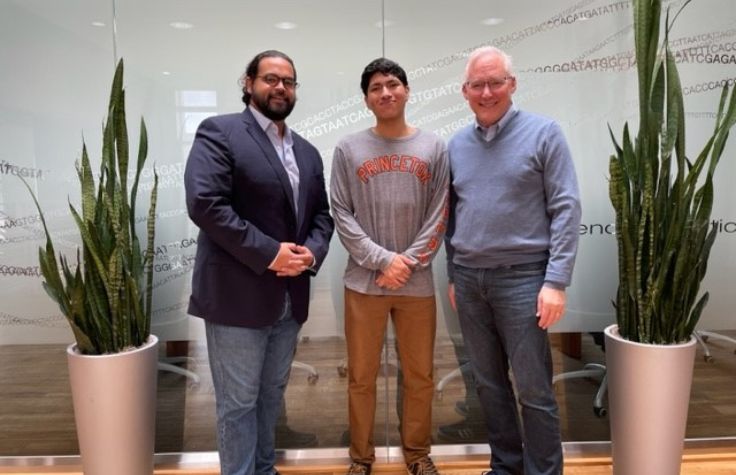 21 May 2023
Alejandro Pliego is attending Princeton, class of 2027. He is smart and poised, but Princeton was hardly a foregone conclusion. The child of immigrants from Cuernavaca, Mexico, he is the first member of his family to go to college. Pliego plans to focus his studies on molecular biology and public policy. As he puts it: He wants to fix things.
Recently, Pliego visited Illumina's San Diego headquarters to meet Princeton alums and learn more about genomics. He's one of the first fellows of the yearlong mentorship program San Diego Squared (SD2) and a recipient of the Illumina SD2 STEM Scholar Award. This visit was a chance for him to celebrate his accomplishments and make academic and professional connections.
"I'm really interested in genomics and understanding different genes in the body to diagnose and treat disease," Pliego says. "This visit, I got to meet a lot of people who do that work and see how Illumina is such a vibrant community. I really enjoyed it."
SD2 is looking for stars
SD2, a grant recipient of the Illumina Corporate Foundation, connects high school students from underrepresented communities to hands-on STEM education, mentorship, and other resources.
"We are hyper-local, going into high schools and colleges to identify diverse, incredibly talented students who have shown excellence in STEM," says H. Puentes, co-founder, president, and CEO of SD2. "We give them front-row access to STEM opportunities and help them develop a network who can be their allies, their support, and their advocates."
The organization adopts a comprehensive strategy to support the whole student, providing whatever they need to succeed—from books to transportation to food stipends. SD2 wants to build their confidence, teach them about STEM industries, and show them they belong here.
"We believe talent lives in all communities," Puentes says, "but historically, STEM fields haven't been looking in diverse areas. Imagine the incredible talent we will find when we go places we've never looked before. Alejandro embodies that, but he's not alone. We've got a ton more Alejandros out there."
A day at Illumina
During his visit, Pliego toured Illumina headquarters, met with several Princeton alums—including Chief Public Affairs Officer John Frank—and chatted with Chief People Officer and SD2 Board Member Aimee Hoyt.
"I was really impressed with how Alejandro approached these meetings," Puentes says. "He's not intimidated at all. I don't think I could have done it at that age. Illumina has been a great partner with SD2. They've been at the table, sleeves rolled up, since day one."
Pliego was impressed by how welcoming the people at Illumina were. "Being able to have these conversations, that was big," he says. "It helps me grow my confidence and see what this world is really like."
He applied to Princeton through QuestBridge, a nonprofit that connects students from low-income families to elite universities, and was awarded a full scholarship. He even wrote about Illumina in one of his college essays, recounting an earlier meeting with an employee who had a similar background. Eventually, he'd like to start his own company.
"I want to be able to help people, specifically underrepresented minorities and underprivileged kids, get the necessities they need in life," Pliego says. "Listening to employees from different companies in this industry and understanding why they chose their career paths gives me perspective into the different missions companies have and how I might fit."
Illumina is committed to inspiring the next generation of genomic leaders, and we are working to nurture a diverse and inclusive STEM workforce for the future. To do this, we collaborate with community partners like San Diego Squared that are empowering learners like Alejandro Pliego and engage our employees to reach and inspire students of all backgrounds.
Learn more about Illumina's commitment to STEM education and our goal of reaching 5 million learners by 2030.