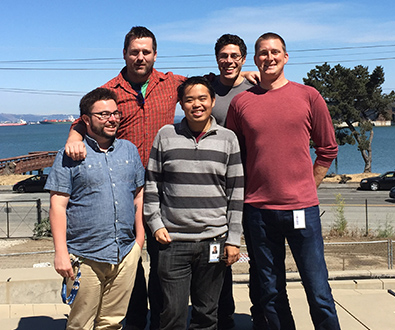 22 August 2016
REX Animal Health, Inc., from Kansas City, is a precision medicine company commercializing its proprietary database for the animal health and agriculture industries and one of the latest startups to join Illumina Accelerator.
REX is building the largest database on livestock and other animals of high commercial value in order to answer questions about disease and sustainability in the food supply chain. Founder and CEO, Amado Guloy, talks about REX's vision to aggregate animal health data from various sources and time periods to reshape our understanding of animal health as well as the company's experience as part of Illumina Accelerator's fourth class.
How is REX's work important for animal health and for human health?
We've developed predictive models for disease forecasting and proprietary algorithms for what we like to refer to as precision husbandry. Our product is a suite of tools to help predict, prevent and precisely manage disease. Here in the U.S., we see disease epidemics in numerous animals every year. Our animal health customers tell us they needed this data and insight long ago. This knowledge will also have an overwhelming impact on human health, because we're dealing with our protein food supply, infectious diseases and rare genetic disorders that are also found in humans.
Why did you apply to Illumina Accelerator?
When you look at human health trends with personalized medicine, animal health is about 10 years behind. We applied to Illumina Accelerator because we want to change that, and we realized there was a missing piece. We're fundamentally a data and analytics company focusing on the animal health and agriculture space. We wanted additional resources to help us tap into the extraordinary amount of genomic data that's out there. Having access to Illumina technology will complete our solution.
Describe the key milestones you aim to achieve during the six-month funding cycle.
There's a lot we want to accomplish during our time at Illumina Accelerator. We'd like to sequence or genotype roughly 500 to 1,000 livestock samples. As a growing company, we want to move away from our academia-based company style to something more mature, which means we have to operationalize everything from our research and development, to our sales pipeline, and product development. Then, the icing on the cake would be closing a few more high-value customer contracts.
How has the move from Kansas City to San Francisco impacted your company?
The move to San Francisco to join Illumina Accelerator has been and will continue to be a positive one. Kansas City will always be home, but there are a lot of resources for us here in the Bay Area, with Illumina, previous Illumina Accelerator graduates, talent and potential investors. After our time at Illumina Accelerator is over, we're planning to maintain our presence here in the Bay Area as well as in Kansas City.
What advice do you have for entrepreneurs starting out in genomics?

Don't start a company just because you think it might be lucrative. Figure out what you're genuinely interested in and which problems you want to solve. At REX, we are animal lovers, and we're trying to make an impact in managing diseases that not only affects animals, but humans as well. Secondly, for entrepreneurs interested in the genomics space, I'd recommend staying on top of the current state of the industry and keeping abreast of the latest in academic research, while also keeping a finger on the pulse of all the companies who tried solving the same problem in the past and why they succeeded or failed. And apply to Illumina Accelerator!
How has your experience been so far at Illumina Accelerator?
It's been an awesome experience here so far. Illumina Accelerator supports companies by helping us source great candidates to hire and by having volunteer mentors within the company to fill gaps of knowledge. I'm impressed that the Illumina team still helps companies after they've graduated. We have access to alumni who can offer us advice. We're currently working to expand our team with people from a variety of backgrounds such as computer science, chemistry, molecular biology, physics, and even mathematics.
Illumina Accelerator is currently accepting applications for its next funding cycle. Applications are due by September 1, 2016. For more information and to apply, visit www.illumina.com/accelerator or Illumina Accelerator's LinkedIn page.