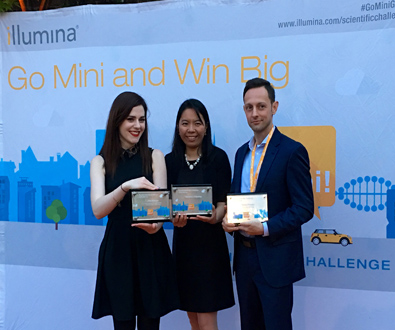 18 April 2016
The Illumina MiniSeq System, unveiled earlier this year, is the company's smallest and simplest next-generation sequencing (NGS) system to date. The Go Mini Scientific Challenge Program was launched to highlight the range of applications that can be performed using Illumina's most affordable sequencer. After receiving more than 1,100 grant submissions from around the world, the winners were announced today at a reception at the American Association for Cancer Research (AACR) annual meeting in New Orleans, Louisiana.
The First Prize Winner, Mattia Prosperi, M. Eng, Ph.D., Associate Professor at the University of Florida in the College of Public Health and Health Professions and the College of Medicine, Department of Epidemiology, will receive a MiniSeq, a 2016 MINI Cooper, and reagents needed for three sequencing runs. As part of an interdisciplinary team in the School of Public Health, he plans to study mosquito-borne pathogens by sequencing DNA from mosquitos collected while driving the MINI Cooper to understand how pathogens move throughout the state of Florida. The car will also be utilized as part of a community engagement program called HealthStreet to provide free transportation to a medically underserved population.
"I am humbled to win this scientific challenge and to be able to implement next-generation sequencing in my study of the diversity of pathogens currently present in Florida," said Dr. Prosperi. "By collecting samples of bugs on the car, we aim to geographically plot vectors and pathogens found throughout the state and enable the implementation of infection control programs by public health officials."
The Second Prize Winner, Hongmei Li-Byarlay, Ph.D., a postdoctoral fellow of National Research Council based at North Carolina State University, will receive a MiniSeq and reagents needed for three sequencing runs. She plans to sequence the honeybee genome and further research into the immune systems in insects by investigating the underlying genetic and epigenetic components of the immune systems of honeybees. She believes the MiniSeq is the ideal platform for this study because targeted RNA sequencing and whole transcriptome sequencing will allow for better understanding of antiviral immune response pathways and insights into gene regulation and epigenetic changes after viral infection.
"Many people don't realize the importance of honeybees to our economy or our food supply. A majority (87 percent) of flowering crops require help from pollinators such as bees. These crops and plants correspond to 33 percent of human food consumption. Pollination from honeybees supports about $15 billion worth of agricultural production, including many fruits and vegetables (such as blueberries, avocadoes, watermelons, and pumpkins) in the U.S. economy," said Dr. Li-Byarlay. "I hope my research can help prevent the 30-40 percent annual loss in the population we observe due to natural pathogens and parasites."
The Third Prize Winner, Una McVeigh, a Ph.D. student at National University of Ireland (NUI) Galway, will receive three sequencing runs on a MiniSeq facilitated by Illumina. She will study the genetics of breast cancer in the population of West Ireland, specifically in women with a strong family history of the disease, to understand the role of genes other than BRCA 1 and BRCA 2 in cancer susceptibility. Her translational research study, which leverages samples from a large biobank at the NUI Galway's department of surgery, aims to identify the frequency of genetic variants, their effects on breast cancer risk, and the clinical utility of testing for them. She hopes to be able to validate new clinically-relevant variants that are potentially applicable in broader populations.
"Next-generation sequencing is an invaluable tool for identifying new cancer susceptibility genes," said McVeigh. "Despite the discovery of BRCA 1 and BRCA 2, the majority of inherited predisposition to breast cancer remains unexplained. We hope our research can begin to identify new genetic drivers of breast cancer, so that one day better patient screening can improve health outcomes for populations with genetic predisposition to the disease."
"The diversity and creativity of the scientific challenge applications that we received is a testament to the versatility of the MiniSeq," said Sam Raha, Vice President of Global Marketing for Illumina. "We're excited that MiniSeq will be used to advance scientific understanding in entomology, virology, and oncology, through the work of these researchers and look forward to seeing our other customers use the system on a myriad of applications critical to improving human health."
The MiniSeq, priced at $49,500, is available with a number of integrated workflows including onboard data analysis tools making it a great NGS entry point for new adopters of sequencing technology. It's ideally suited for research and industrial applications in many segments including cancer, infectious disease, inherited disease, and reproductive health. Common applications with demonstrated workflows include targeted expression profiling, miRNA discover, targeted causal variant screening, solid and hematological profiling, and germline screening.
MINI and MINI Cooper are trademarks of MINI USA, a division of BMW North America LLC. Illumina is not sponsored by, related to, or affiliated with MINI USA.