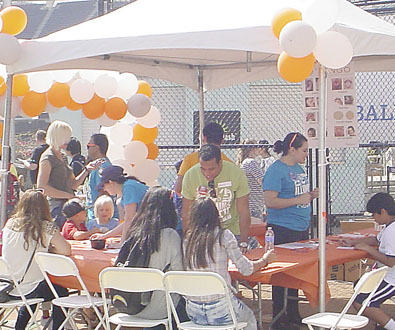 03 March 2016
For the third year in a row, Illumina is the presenting sponsor of the San Diego Festival of Science and Engineering, a week-long celebration of the STEM disciplines (science, technology, engineering, and mathematics) that reaches more than 75,000 students, parents, scientists, and educators. Hosted annually by the BIOCOM Institute, the Festival includes a week filled with more than 50 events and activities across San Diego County. Karen Possemato, Chief of Staff to Illumina Chairman and CEO Jay Flatley, tells us more about the company's plans for this year's EXPO Day, which kicks off the 2016 Festival.
Why does Illumina support the San Diego Festival of Science and Engineering?
Illumina is committed to giving back to the communities where our employees and their families work and live. We see STEM education as a critical need, and as a leading company in this area, we believe we have a moral obligation to reach out to the next generation to inspire their interest and participation in these fields. In addition, as a San Diego headquartered company, we know that the regional economy depends on having a large workforce of professionals in all of the STEM disciplines. We need more STEM professionals.
We also love that this Festival makes science and engineering fun for kids of all ages. We participate annually in EXPO Day at PETCO Park. We think it's a great event. Last year it attracted more than 24,000 children, parents and STEM enthusiasts from all over the county. Our participation in the event also gives our employees a chance to get involved in the community and to share their knowledge and passion for science. Many of them enjoy volunteering in our booth year after year and bringing their families so that their children can get excited about STEM as well.
To make sure that our work has a lasting impact, Illumina has also begun building an online toolset for students, parents, and teachers looking for age appropriate genetics projects and learning ideas.
What will be happening at EXPO Day?
Illumina is honored to be one of the more than 130 local companies and organizations participating in EXPO Day. We designed our EXPO Day experience to provide opportunities for visitors of all ages to gain an appreciation for STEM concepts, and to engage with questions that can be answered with help from Illumina's genomics technologies.
New this year will be a forensics experience. Visitors will learn about the different types of evidence used to solve crimes, including DNA of course!
We will also have activity stations for making codon necklaces, phenotype bingo, STEM face painting, and a photo booth for students to picture themselves in science by snapping selfies in lab coats and posing with giant inflatable strands of DNA.
Expo Day will take place at Petco Park in San Diego from 10 a.m. until 5 p.m. on Saturday, March 5. Admission is free. To learn more, visit www.lovestemsd.org.