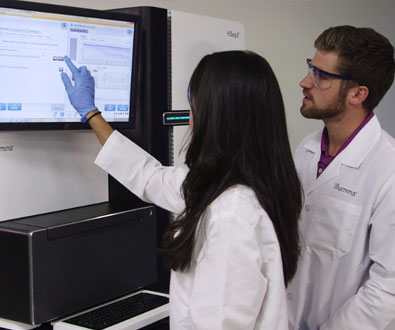 16 July 2015
In order to help organizations with HiSeq X Systems maximize quality, throughput and cost efficiencies, the company today launched Illumina SeqLab. The new offering is a turnkey solution designed to increase laboratory efficiency for population-scale human whole-genome sequencing (WGS). It provides an easy and streamlined approach to automation and workflow optimization.
When Illumina introduced the HiSeq X Ten in 2014, excitement around the $1,000 genome created broad demand. The HiSeq X Ten enables a laboratory to sequence approximately 18,000 high-quality, high-coverage human whole genomes per year. In January 2015, the company released the HiSeq X Five, which allows production centers to adopt high-throughput WGS with a lower capital investment while still at an attractive price per genome.
Illumina found some of the centers adopting the systems were new to high throughput, production-scale sequencing. According to associate director Joel Fellis, "Since we launched, one of the things that's been really amazing is not only the demand for HiSeq X systems, but also the very diverse customer profile of people looking to take on population-scale sequencing. Our customers range all the way from very experienced genome centers who are experts in the field, to labs that may have no experience in doing factory-scale sequencing."
Integrated solution for WGS
For laboratories that are new to population-level sequencing, integrating and configuring the laboratory information management system (LIMS), laboratory automation and analysis pipelines needed to process thousands of genomes per year can take significant resources and an extended period of time. Illumina SeqLab helps laboratories accelerate the time required to ramp up to production and to maximize efficiency, optimize laboratory utilization, and streamline analysis to enable maximum sample throughput.
Moreover, it helps laboratories to deliver sequencing results with confidence by enabling positive sample tracking throughout the process. As part of the service, Illumina's team of consultants provide customers detailed recommendations as they deploy Illumina's suite of world-class technologies.
"Some of our HiSeq X customers have a lot of expertise in their particular field of study, but when it comes to running a high-throughput facility, they need input from someone who has done it before," said Fellis. He sees Illumina SeqLab as "a helping hand" for these customers, to provide them with the capabilities required to achieve operational excellence.
Many features, few complications
Illumina SeqLab provides a fully-integrated solution for large-scale WGS. This allows users to focus on their science rather than on integrating a series of piecemeal solutions and provides the means to achieve maximum efficiencies in pursuit of the $1,000 genome. Illumina partnered with GenoLogics and Hamilton Robotics to provide this streamlined end-to-end solution, which includes Clarity LIMS X Edition, Microlab® STARTM liquid handling robotics, HiSeq® Analysis Software (HAS) v2.0, and Illumina SeqLab Consulting.
Fellis explains, "There are a lot of different components which all take time to source and implement. Then there's the integration of all those components, which can be quite challenging. You end up spending a lot of your time being a system integrator, integrating your LIMS with your automation, with your analysis, with your quality control. It's quite challenging. As part of SeqLab there's the consulting service on top of this that walks customers through all the best practices as a series of modules, to train them on various aspects of running a high-throughput sequencing facility."
He adds, "Our goal with SeqLab is to provide an end-to-end solution to support the HiSeq X systems by integrating such features as positive sample tracking and providing integrated automation from sample accession through sequencing. There's also a data analysis component which provides a package that gives the full breadth of variance—from a single, fast, accurate whole-genome analysis solution and implementation service."
Scalability for all
Fellis noted that while the new solution is rolling out to target labs with less experience in production sequencing, more experienced labs may be drawn to the solution as well. Regardless of the type of facility, Illumina SeqLab is designed to standardize and optimize workflow, reducing the time that lab personnel need to spend operating the HiSeq X system and ensuring quality results. Robust and scalable to meet the demand of a HiSeq X Series, Illumina SeqLab can process more samples efficiently and accurately, reduce failure rates compared to manual processes and provide scalability to meet growing genome demand, even for the most experienced facilities.
"Many labs could do with a helping hand," said Fellis. "I think even some of the larger centers have expressed interest in this to better standardize their workflow and to evaluate and manage the data. They have a lot of expertise, but they're still open to anything that will help them streamline the process and achieve maximum efficiencies."