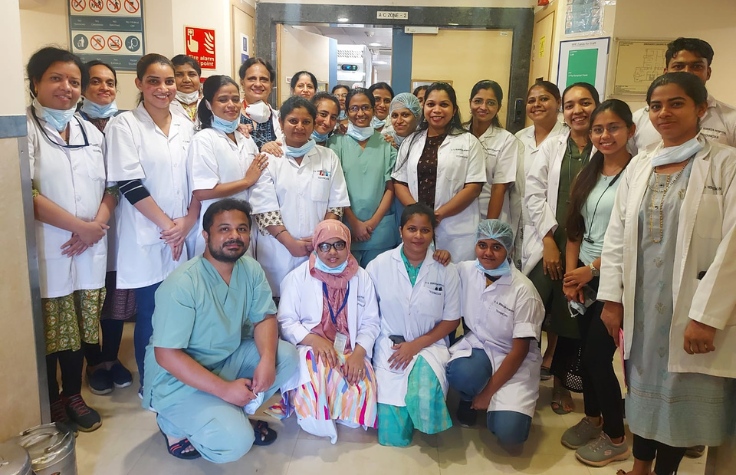 23 March 2023
For more than 30 years, Dr. Camilla Rodrigues has fought the insidious disease tuberculosis (TB) with her dedicated team at the P. D. Hinduja Hospital & Medical Research Centre, a private, nonprofit hospital in Mumbai, India. Her philosophy is, "It's not just about diagnosis and prescribing drugs. It is about offering integrated patient care and improving the patient's quality of life."
Every year, TB causes 1.5 million deaths worldwide. It's the second-deadliest infectious disease after COVID-19. "Unfortunately, multidrug resistance is an increasing problem," Dr. Rodrigues says. "Nearly 500,000 new cases are detected each year globally, and TB could lose its curable status if something doesn't change."
In 2020, the World Health Organization (WHO) identified 30 high TB burden countries, which account for 86% of new TB cases—and India is at the top of the list. At their large referral laboratory in Mumbai, Dr. Rodrigues and her team receive 150 to 175 TB samples per day.
Drug resistance on the rise
Back in 1990, as clinicians noticed an increase in patients with drug-resistant TB, the Hinduja lab began focusing on the disease, and Hinduja Hospital started investing in automated methods for culture-based phenotypic drug susceptibility tests as early as 1994.
In 2012, the Hinduja team published a research report showing compelling evidence of "total" drug resistance in 12 patients in India—meaning there were twelve cases from one center that were resistant to all known treatments. This brought drug resistance back into focus, and the National Tuberculosis Control Programme implemented several changes and targets in its 12th Five-Year Plan, including strengthening urban health care infrastructure to increase early diagnosis and stop transmission in cities.
"Drug resistance was possibly underreported," Rodrigues explains. "In 2015, a study by the National Programme performed at several sites across the country saw a 39% increase in incidence and a fivefold increase in drug resistance to rifampicin. This was a turning point, and subsequently India has deployed 3000 nucleic acid amplification testing centers across the country."
Combatting multidrug-resistant TB
Without genomic science, there is no way to detect the mutations that cause multidrug resistance. But thanks to next-generation sequencing (NGS), scientists have unlocked the key to fighting multidrug-resistant (MDR) TB—and in record time. "Whole-genome sequencing is gaining traction for TB surveillance," Rodrigues says. "It can detect resistance to all drugs with a faster turnaround time."
NGS enables highly accurate, high-throughput decoding of Mycobacterium tuberculosis genetic information, such as what mutations may exist in a particular strain that enable drug resistance. It's a fast, sensitive, scalable, and culture-free drug susceptibility testing method that provides a comprehensive anti-TB drug resistance profile. Genomic sequencing for drug-resistant TB surveillance is one of the key initiatives in India's National Strategic Plan to eliminate the disease by 2025.
Effective treatment ultimately depends on accurate and rapid diagnosis of variants that are resistant to all anti-TB drugs. The WHO has published a comprehensive catalogue of drug-resistant variants, so personalized treatment may be possible in the future. More remains to be done to characterize these variants, especially ones that are resistant to second-line drugs. Additional sequencing data is needed to continue to build the nation's mutation catalogue.
The Hinduja team is leading the charge. Rodrigues envisions a future where every patient, no matter where they live, has access to a tailored treatment within three days.
"Political will and funding count," she says. "It took nine months to get a COVID vaccine on board. We should be fighting TB with the same fervor as COVID-19."
Illumina is pleased to have supported Dr. Camilla Rodrigues and her tuberculosis team at P. D. Hinduja Hospital and Medical Research Centre with the provision of iSeq and MiSeq sequencers through the Seq and Treat trial, working with not-for-profit diagnostics organization FIND.
To read more about tuberculosis surveillance, click here.
To learn about Illumina and GenoScreen Deeplex® Myc-TB Combo Kit, click here.