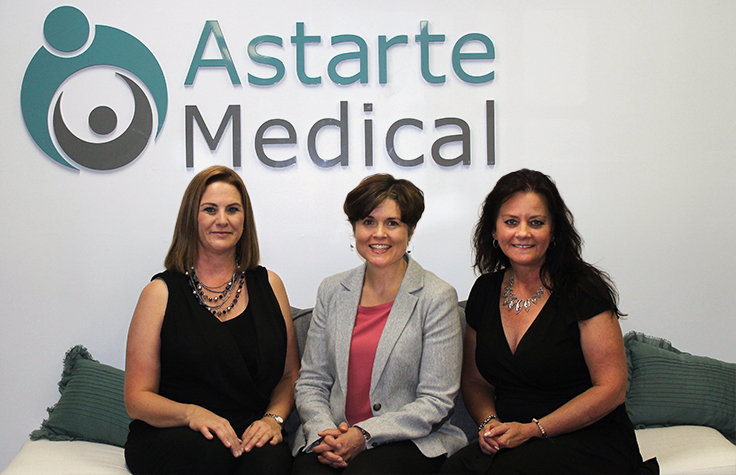 9 November 2020
Every year, an estimated 15 million babies are born preterm worldwide.[1] In the U.S. alone, approximately 380,000 babies are born prematurely, one of the highest rates of preterm birth of any high-resource country.1 Preterm birth accounts for over 70 percent of neonatal deaths and almost half of long-term neurological disabilities.[2] Sadly, preterm infants can have a variety of health issues, such as breathing and digestive problems, and bleeding in their brains.
Nutrition in early life is a critical factor in neonatal growth and long-term health. In fact, the most active period of neurologic development occurs in the first 1,000 days of life, the period beginning at conception and ending at the start of the third postnatal year.[3] The gut – the intestinal microbiome – plays a critical role during this unique window of opportunity. It is the largest organ of immunity that also drives growth and brain development.
Illumina Accelerator graduate, Astarte Medical is a precision nutrition company using software and predictive analytics to improve outcomes in the first 1,000 days of life. Astarte Medical's technology platform revolutionizes care for infants by standardizing care protocols, quantifying gut health, and customizing care. Founded by serial entrepreneurs, Tracy Warren and Tammi Jantzen, in collaboration with experienced neonatal intensive care (NICU) nurse and academic researcher, Katherine Gregory PhD, RN, of Brigham & Women's Hospital, Astarte Medical created a suite of digital solutions to address some of the challenges clinical teams face when caring for preterm infants in the NICU.
"Kate's unique experience as a microbiome researcher and NICU nurse led her to recognize first-hand the lack of gut health insights in neonatal nutrition and feeding. When we met her, we knew we had to find a solution leveraging cutting edge technologies like sequencing and machine learning to improve care," said Warren, co-founder and CEO. "Years ago, babies who were born prematurely had a low chance of survival. Over time, science and technology have increased their chances to survive, but they struggle to grow and thrive. There was no evidence-based tool to optimize feeding and nutrition or monitor the crucial factor of gut health in these preterm infants."
Astarte Medical developed NICUtrition®, an analytical tool that measures adherence to feeding guidelines, correlates it to outcomes, and includes an interactive bedside dashboard that standardizes feed delivery based on a particular hospital's clinical practice guidelines. The tool helps ensure consistent delivery in an intuitive format, reducing practice variability which has been shown to reduce length of stay, improve growth and health outcomes for preterm infants.
"There's currently practice variability among clinicians in the NICU and a substantial amount of documentation with limited insights. Every baby is different and there is little known about gut health, an important element to providing personalized feeding and care," said Jantzen, co-founder and CFO. "We created NICUtrition® to provide easy and intuitive access to feeding data with real-time analysis of metrics and milestones, enabling clinicians to make more confident, well-informed care decisions."
A recent study from the University of Rochester Medical Center found that infants with higher levels of good bacteria in their guts generally grew faster than those with less healthy microbiomes.[4] The first 1,000 days of life is a unique window given the substantial growth and development that occurs, the influence on long-term health outcomes driven by establishment of the microbiome, and the lower level of diversity relative to other life stages. By the age of 3, a child's microbiome is as diverse as an adult.
"When one considers these factors, the microbiome data has the ability to help write the roadmap for future health, beyond just the first 1,000 days of life, and the long-term implications are enormous," said Warren.
Astarte Medical's flagship product, NICUbiome™, is an evidence-based tool to direct the utilization of microbial interventions and personalize nutrition. NICUbiome™ is a digital platform that leverages machine learning to provide quantification of and insights to preterm infant gut health.
In 2018, the Astarte Medical team was accepted into Illumina Accelerator's eighth funding cycle. Warren and Jantzen say that prior to their participation in Illumina Accelerator, they were thinking too small and the team at Illumina Accelerator pushed them to think bigger.
"Through the guidance we received from the Illumina Accelerator team, we realized that using 16s sequencing was not going to give us the type of information we needed – but shotgun metagenomic sequencing would," said Warren. "In the six months at Illumina Accelerator, we generated the world's largest dataset for preterm infants. This provided us with predictive capabilities for health, microbiome-based screening, and diagnostic tools, and ultimately targets for microbial interventions to optimize the early feeding and nutrition of preterm infants, improving their trajectory to good health and development."
"Not only did Illumina Accelerator add invaluable insights as to dataset design, their fundraising connections and advice accelerated our growth and improved our ability to execute," added Jantzen.
In 2019, the Astarte Medical team raised $8.5 million, recruited an experienced management team, established its clinical advisory board, built its clinical decision support platform and signed its first customer. Although 2020 has been a challenging year for most hospitals and implementations have been delayed, Astarte has seen a surge in interest from NICUs around the country. In October, Astarte Medical was issued their first patent for the use of biodemographic, clinical, and microbial health risk factors incorporated into a score, identifying the risk of gut inflammatory response.
"The issuance of this foundational patent supports our vision of creating AI-driven solutions that create a standard measure of the state of the gut, which can help direct clinicians or consumers how best to manipulate the gut in support of precision health," said Warren.
There are over 8 million infants in the U.S. under the age of two that face significant health challenges and Astarte Medical will leverage their expertise in nutrition assessment, guideline adherence, and AI-driven microbiome solutions to create a foundation of health for these infants. The company plans to execute a clinical trial and introduce NICUbiome™ to the broader NICU market.
"Diet and nutrition can replace current long-term therapies for allergies, asthma, and obesity, which have plagued our children the past couple of decades. Our focus will continue to be to improve the health of future generations," said Warren.
Illumina Accelerator is now accepting applications for its 13th funding cycle in the San Francisco Bay Area and 3rd funding cycle in Cambridge, UK. To learn more or to apply, visit the website.
[1] https://www.who.int/news-room/fact-sheets/detail/preterm-birth
[2] https://www.ncbi.nlm.nih.gov/pubmed/19000029
[3] https://pediatrics.aappublications.org/content/141/2/e20173716
[4] https://microbiomejournal.biomedcentral.com/articles/10.1186/s40168-017-0377-0