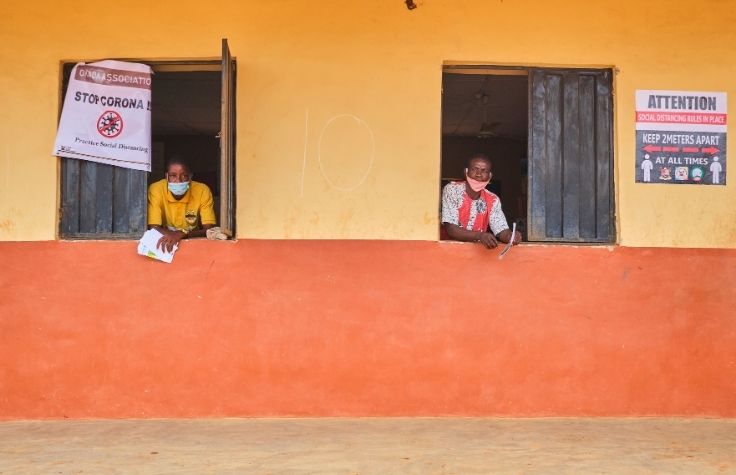 12 October 2020
A dangerous novel pathogen emerging in any region is devastating, but even more so when genomics and bioinformatics infrastructure is insufficient to identify, monitor, or slow its spread. In resource-limited environments, public health officials struggle to allocate precious medical commodities such as diagnostics or vaccines. Africa needs information in real-time, and in high fidelity. Next-generation sequencing (NGS) of pathogen genomes can provide these insights, mitigating the potential loss of life.
While genome sequencing data have been used to develop tests, vaccines, and therapeutics, as well as monitor viral mutations, sequencing on the continent is severely limited due to high upfront costs of the equipment, shortage of well-trained laboratory personnel, minimal infrastructure for data analysis, and competing public health priorities putting strain on financial capacity.
NGS offers an accurate, efficient, and cheaper way to sequence large numbers of genomes quickly and be able to track down pathogens that may be causing disease outbreaks across a population, an approach known as surveillance. NGS can also track genetic changes that impact disease countermeasures such as diagnostics, therapeutics, and vaccines.
In enabling genetic sequencing and disease outbreak surveillance capabilities across the continent of Africa, Illumina is proud to support the Africa Pathogen Genomics Initiative.
This past spring, SARS-CoV-2 positive samples were being sequenced by only a few African institutions to characterize circulating strains. As part of an ongoing commitment to enable genomic capabilities in low- and middle-income regions, Illumina donated US $1.4 million worth of sequencing systems and related consumables to the African member states, through the African Union, and Africa Centres for Disease Control and Prevention (Africa CDC).
Now, Illumina is joining a cross-sector partnership to support the Africa CDC Institute of Pathogen Genomics in launching the Africa Pathogen Genomics Initiative (Africa PGI). The comprehensive initiative will expand access to NGS tools and expertise with the goal of strengthening pathogen capacity across the continent, including capacity building in 20-plus countries. Illumina will donate NGS platforms, reagents, and training support worth approximately US $20 million over four years. Partners in the US $100 million initiative include the US Centers for Disease Control and Prevention, the Bill & Melinda Gates Foundation, Oxford Nanopore Technologies, Microsoft, and others.
"In enabling genetic sequencing and disease outbreak surveillance capabilities across the continent of Africa, Illumina is proud to support the Africa Pathogen Genomics Initiative," said Phil Febbo, Chief Medical Officer of Illumina. "As we work with our partners to bolster the scientific underpinnings of public health threats, NGS plays a critical role in all phases of an outbreak—from initial characterization to pathogen surveillance, outbreak management, and post-pandemic monitoring. I am pleased that Illumina is participating in this comprehensive program that will not only provide NGS technologies but also the training programs, data infrastructure, and governmental support required for long term sustainability."
This new initiative will facilitate and support essential research and public health responses to COVID-19 and other disease threats, including endemic diseases such as HIV/AIDS, tuberculosis, malaria, cholera, and other infectious diseases. Having genomic information from these pathogens across the continent will be essential in the ongoing effort to combat antimicrobial resistance, perhaps the greatest public health threat globally. The initiative aims to not only accelerate implementation of NGS for pathogen surveillance, but also to drive sustainability to ensure capabilities are maintained. The network of laboratories—some of which are receiving NGS capabilities for the first time—will be complementary to the Institute of Pathogen Genomics, launched by Africa CDC in 2019, to strengthen pathogen genomics and bioinformatics capacity across Africa.
Beyond the physical laboratory network, a training program for pathogen genomics, the NGS Academy, will also be created, providing public health institutions access to training and tools to generate and translate genomics data for public health action and researchers. This will allow them to participate in and lead international collaborations in infectious disease genomics.
At Illumina, we believe that collaborating with research and partnering with resources will achieve the greatest results. The donation is part of our corporate social responsibility program, an expression of our dedication to accelerating access to genomics and making a positive impact on humanity—not just through our technology, but through our actions.
For more information on the Africa Pathogen Genomics Initiative, click here.
Photo: Adeyinka Yusuf/iStock