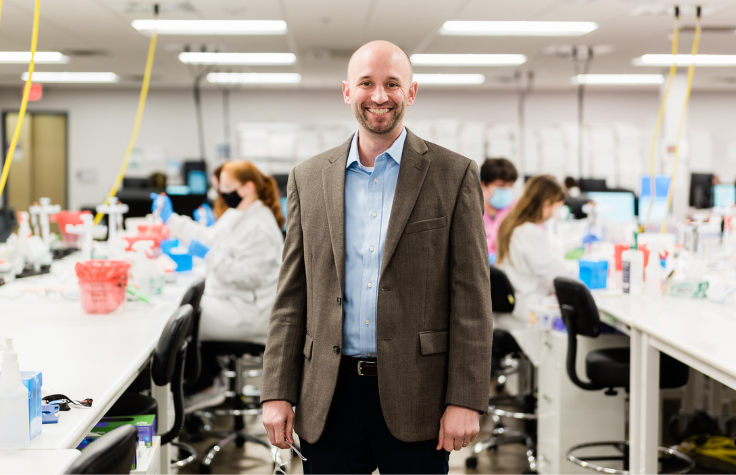 3 November 2021
Dr. Matthew Hardison knows firsthand the personal costs of a rapidly mutating virus. In August 2021, he and his nurse practitioner wife, along with their three young children fell ill with COVID-19—specifically the Delta variant. Both Dr. Hardison and his wife were fully vaccinated but Delta was especially vicious.
"The spread of Delta and the impact of that strain on the pandemic can't be overemphasized," says Hardison, who is the SVP of Lab Operations at Aegis Sciences Corporation. His laboratory, based in Nashville, Tennessee, tracks positivity and emerging virus strains around the United States. "Within a few short weeks, we saw our positivity go from below two percent in July to over 16 percent, and our sample volume quintupled because of the unchecked spread of this new, extremely powerful variant."
Days after his family had recovered from the Delta variant, the Mu variant received designation. And so it continues.
Growing in capacity alongside a spreading virus
In the spring of 2020, Aegis Sciences Corporation was primarily a toxicology company that also had a small molecular lab staffed by six employees. The molecular team served boutique pharma and consumer wellness companies. Aegis performed both Sanger and next-generation sequencing, using 10- and 20-gene panels, processing a few hundred samples per year. Notably, Aegis had also developed pharmacogenetic and several novel psychoactive substances panels.
"When the pandemic hit, we had a unique vantage point in that we had been dealing with an ongoing opioid epidemic. As such, we viewed coronavirus as our responsibility to continue to expand our capabilities. The work isn't always reimbursed adequately from Medicare or private insurers, but testing is a critically necessary component."
Dr. Hardison's team began by focusing on their local Nashville community and the state of Tennessee. Their first samples came from prisons in and around the area where there were focal outbreaks of COVID-19.
With the support of the National Institutes of Health (NIH) and the US Department of Health and Human Services (HHS) through their Rapid Acceleration of Diagnostics (RADx) program, Aegis scaled their capacity from approximately 15,000 samples per day to about 110,000 samples per day in approximately four months' time.
Based on this success, Aegis partnered with Walgreens in the fall of 2020 to establish a nationwide network of testing capability (today they are testing for over 4,000 Walgreens stores in all 50 states and Puerto Rico). In addition to Walgreens, Aegis also services hundreds of long-term care and nursing facilities, urgent care centers, and various state departments of health.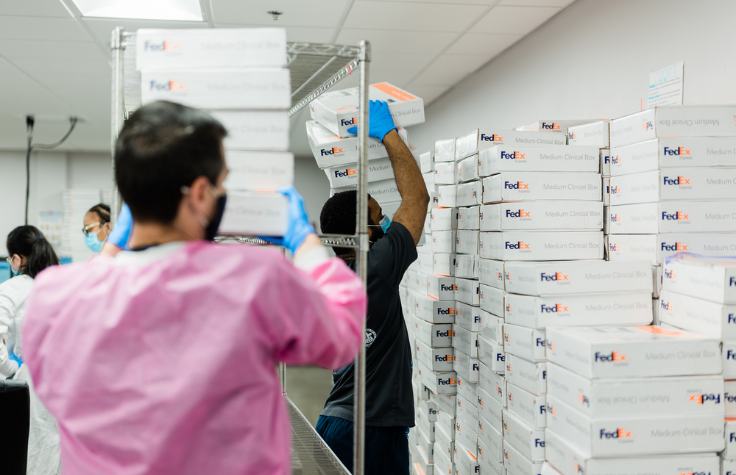 Following the winter surge of 2020/2021, they increased their focus on the emerging variant strains of SARS-CoV-2 that were beginning to be observed in other countries. Aegis began a partnership with the Centers for Disease Control (CDC) in April of 2021 to provide up to 480,000 sequences. "We moved from a single Illumina MiSeq™ to purchasing two NovaSeq™ 6000 platforms, and we have been off to the races ever since." They were able to install the instruments and then validate and launch the Illumina COVIDSeq™ assay in less than six weeks.
"Evolving threats require evolving solutions"
A virus can mutate to become more transmissible, increasingly deadly, or better able to escape vaccine immunity—or all three.
Next-generation sequencing (NGS) can be used to identify outbreak clusters to predict transmission routes and monitor the spread of COVID-19 in a given community. NGS can identify strains with increased transmissibility as well as risks to PCR diagnostics—NGS will determine the strains that could lead to false negative test results, and identify the risk of mutant strains that could evade immunodetection.
"Nearly every day, a new variant emerges. These new variants continue to change the pandemic, so it's important to move fast and get it right," says Gary Schroth, VP and Distinguished Scientist at Illumina. "Evolving threats require evolving solutions."
Industry-leading biotech companies like Illumina, as well as labs like Aegis, partner with the CDC and a public health collaboration called SPHERES (SARS-CoV-2 Sequencing for Public Health Emergency Response, Epidemiology, and Surveillance). Illumina and Aegis are among more than 500 public and private groups that are working together to solve this public health crisis. Some of the topics the members discuss are testing methods, software solutions, wastewater sequencing, and technology design.
Mutations may affect what is known as primer binding sites in amplicon-based assays such as COVIDSeq. When that happens, the primer may lose its efficiency to amplify the sequence, causing a reduction in coverage, uniformity, or even a gap in coverage over certain areas of the genome.
"We're only as good as the testing supplies and reagents that we can get in," says Hardison. "Because Illumina had helped us get up to speed so quickly with testing, it was only natural to work with them to improve the assay."
"Illumina was developing a new primer set, and we worked with the team at Aegis to test the new primers," says Schroth. "Aegis sequenced hundreds of samples using both primer sets, and then compared the data. Together, we saw a pretty significant improvement in performance of the new set, especially with the Delta variants."
The NGS team at Aegis initially focused primarily on the positive samples with high CT (cycle threshold) values, which indicate a lower viral load. It was these samples where they were experiencing most of the dropout. "With this new primer set, we've seen roughly 40 to 50 percent improvement among those high CT samples," says Hardison. "This will be hugely beneficial in being able to provide more data to the CDC across the spectrum of our positive samples."
The new COVIDSeq™ v4 Primer Pool brings the most recent ARTIC v4 primer set for SARS-CoV-2 amplification. That primer set yields better coverage for SARS-CoV-2 whole-genome sequencing, reducing gaps on the virus genome. It enables more precise variant identification and the discovery of novel variants.
"When we give the CDC higher quality data, we provide a better and more timely ability to track emerging variants across the spectrum," says Hardison.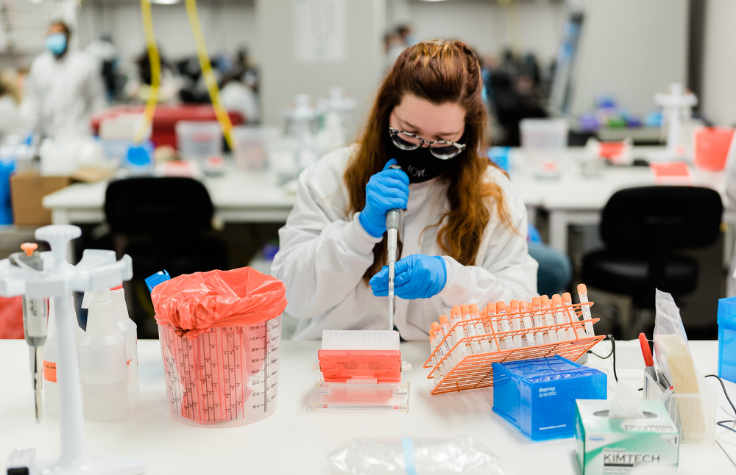 The power of surveillance and improved data
To date, GISAID has received 4.6 million total global submissions of SARS-CoV-2 sequences. Of the 1.4 million that come from the US, Aegis alone has contributed over 200,000 sequences, making it one of the largest COVID sequencing operations in the world.
"When we look at the UK or Israel or other countries that have seen Delta ahead of us and say, 'Wow, look how fast it spread. Look at the impact it's having there,' we really need to be monitoring here and say, 'Okay, we've seen it in Missouri. We've seen it in Florida. We've seen it in Texas. And now we're seeing it at two-fold, four-X, eight-X, 16-X,'" says Hardison. "If we're seeing this level of growth, then perhaps we can respond faster or enact public health measures or pauses on large gatherings for enough time to at least blunt or stop the unchecked spread of this variant."
Genomic surveillance data helps local, state, and federal institutions respond to COVID-19. With data, they can better allocate resources and rapidly implement policies for prevention.
"It goes back to Aegis's philosophy," says Hardison. "In this case, it's not just about helping clinicians make better decisions. We're also helping public health officials make better decisions. I truly believe that's how we can make a difference in people's lives."