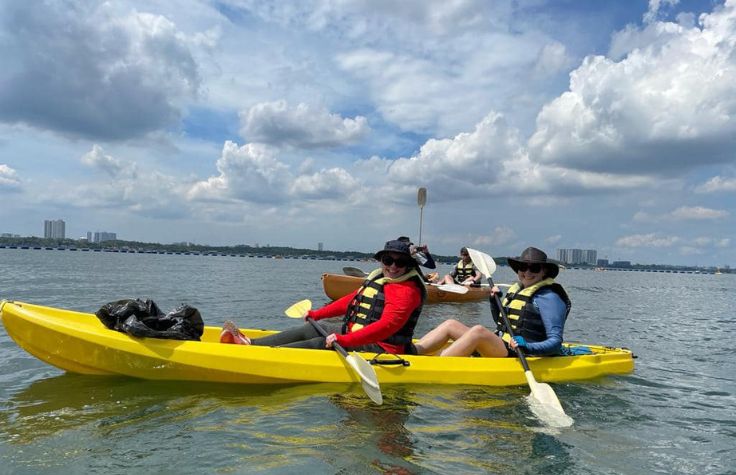 28 October 2022
"The Spoon Theory," a personal story by patient advocate Christine Miserandino, imagines "spoons" as a measurement of one's daily energy to illustrate what it's like to ration that energy. For those living with a disability (visible or not), the number of spoons they must use for a given activity can vary greatly from day to day—for everything from getting out of bed to socializing—and those without a disability may not realize what a luxury it is to need fewer spoons for the same activities.

This is a particularly relatable concept for Illumina employee Katie Ellis, an Australian certified genetic counselor and senior medical science liaison, who lives with a disability while navigating the workplace. Ellis and her colleague in the United Kingdom, Hollie Church, senior talent acquisition specialist, recently collaborated to establish regional disability employee resource groups (ERGs) within Illumina. Their efforts align with National Disability Employment Awareness Month, which celebrates the contributions of America's workers with disabilities past and present. This year's theme is "Disability: Part of the Equity Equation."
Ellis and Church answered a few questions about how the new ERGs came to be, and their long-term goals for them.
What has been your experience as part of the "equity equation"? What motivated you to launch this group now?
Katie Ellis: I was hesitant to share my own experience of living with a disability. However, I saw positive changes in my own daughter [who shares the same disability] when her condition was recognized and promoted. It removed barriers to her learning and full participation. I thought, what else could we accomplish [at Illumina] if I raise my hand to help bring awareness, or who else could we empower? It can be hard to speak up—you think, "Maybe I won't get that promotion, or be sent on that business trip"—and as I was thinking about this idea of creating an ERG at Illumina [for the Asia Pacific and Americas regions], it turns out the timing was just right. My colleague Hollie happened to be pitching the same idea for the Europe/Middle East/Africa [EMEA] region, teaming with participants globally.
Hollie Church: Our new group [in EMEA], called Embrace Your Uniqueness [Unique for short], aims to create a safe space to gather data, and educate ourselves and the business on how to best support individuals who fall under the disability and/or neurodiversity group. We as a company facilitate diagnoses—why stop there? We plan to collaborate with our ERGs, to lean on each other for support, resources, and experience.
What are your other goals for these ERGs?
Ellis: We are already unlocking the power of the genome—and we can unlock the power of our employees. We already have a culture and a leadership team that encourage diversity and provide support. The goal is to make our workplace even more equitable, so employees can thrive and feel more comfortable to be involved. It's open to anyone with a disability, visible or invisible, including carers and disability community allies. By starting within our workplace, we can contribute to a more inclusive world for our children.
Church: We ask: Why is this important for companies like us? If we can create an environment for those affected to thrive, we will see an increase in productivity and innovation—and it's also aligned to our company mission.
Ellis: We are demonstrating our commitment to improve everyone's ability to maximize their own potential and accessibility within the company. I always cite "The Spoon Theory": How do we help our employees keep as many spoons as they can for their physical and emotional well-being? As a group, we will host events to raise awareness, consider strategies to reduce barriers in the workplace, and we will honor our employees' anonymity if they prefer. And it's a forum to discuss questions such as "Do managers feel equipped to lead teams and people with disabilities?"
The ERGs are just one example of Illumina's efforts: This month, CEO Francis deSouza signed the Disability:IN CEO Letter on Disability Inclusion; Illumina has also been recognized as one of the Best Places to Work by that nonprofit's 2022 Disability Equality Index. Illumina earned this honor because of its commitment to ensure its employee benefits support individuals with disabilities; to enhance companywide communications with more inclusive channels and options; and to diversify its partnerships with suppliers, including businesses owned by people with disabilities.
While Illumina has made inroads to create a more diverse and equitable workplace, there is more progress to be made. Through the work of Ellis, Church, and many others, we will continue to be one of the most inclusive companies on the planet.