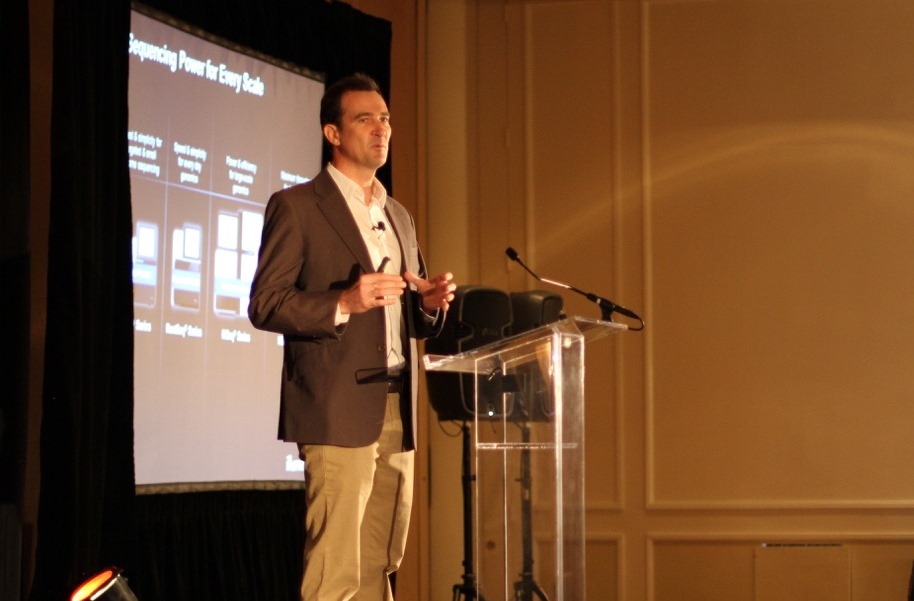 02 March 2015
The second half of February is a special time of the year for users of genomic technology, who gather both in real life and virtually to hear the latest about cutting edge sequencing. The sixteenth annual Advances in Genome Biology and Technology (AGBT) meeting, considered by most experts to be foundational to the latest experimental and analytical approaches for genomic studies and their myriad applications, was held in Marco Island, Florida last week.
For the second year in a row, Illumina hosted a pre-conference User Group Meeting, as well as instrument and software demos, and a luncheon workshop. Illumina sequencing and bioinformatics technology was also featured in over 100 AGBT poster and talk abstracts.
The Illumina User Group Meeting on Wednesday featured an overview of our sequencing portfolio, highlighting the HiSeq 3000/4000 and HiSeq X Five instruments that use patterned flow cell technology to achieve optimal clustering and subsequently better sequencing outcomes. Improvements to the next-generation sequencing end-to-end workflow were also in the spotlight, thanks to the announced availability of the NeoPrep Library Preparation System. Hands-on experience with NeoPrep and experimental data for a variety of experimental applications were shared. And, Dr. Shawn Levy, head of the Genomics Services Laboratory at the Hudson Alpha Institute, spoke about how they have achieved excellent cross-platform concordances with "X-Scale" genomics (on the HiSeq X Ten) and with various sequencing projects with the updated NextSeq chemistry.
The Illumina Silver Sponsorship Luncheon on Thursday featured a less-technical dive into Illumina's sequencing portfolio and workflow improvements, as well as perspectives from Dr. Michael Berger of Memorial Sloan-Kettering Cancer Center on personalized cancer treatments based on next-generation sequencing. Clinical sequencing applications and genomic medicine were prominently featured throughout the AGBT scientific program, with several plenary and concurrent session devoted to the progress of clinical sequencing. A number of captivating talks were also presented on such topics as genomic dissection of single cells, genome modifications during spaceflight, and metagenomic sampling of the New York City subway system.
"This AGBT meeting is one of the strongest that I can remember in the last few years," said Yaniv Erlich, Assistant Professor of Computer Science, Columbia University and Core Member, New York Genome Center via Twitter. We look forward to seeing what inspiration comes from this meeting to unlock the power of the genome.