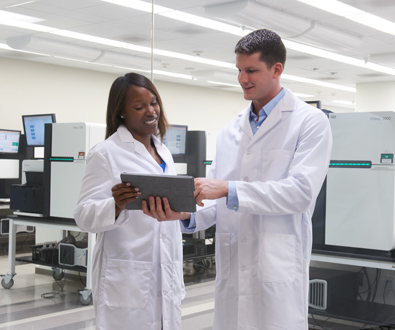 04 April 2016
As Illumina has driven down the cost of adopting next-generation sequencing (NGS), more laboratories with no previous experience using the technology have begun adopting it. While Illumina products are designed to work together, and many advancements have made them easier to use, some users may still need help setting up their laboratories to achieve operational efficiency. Illumina is now offering professional consulting services from technical experts. These offerings can help laboratories minimize trial-and-error when adopting new protocols, scaling up, or implementing NGS for the first time.
"After we launched SeqLab last year, we saw that the HiSeq X customers who took advantage of the offering valued the consulting services we provided. These services helped them to optimize their laboratory processes to implement workflows for their instrumentation," said Ron Chavez, Director, Service and Support in Illumina's Customer Solutions Department. "We decided to expand the consulting services we offer and to make them available to customers regardless of the scale of their operations."
Services include:
Proof-of-Concept Service – For laboratories considering an NGS purchase or the adoption of a new kit or workflow, this service allows customers to test an NGS solution by submitting their own samples to Illumina for a trial run. It includes personalized consulting, customized protocols, and delivery of a complete data set. The service can be used to evaluate new instrumentation, workflows, library prep kits, or custom-designed panels before making purchase decisions or implementing new technology in their own labs.
Genomics IT Consulting Service – For laboratories without dedicated IT professionals skilled in genomics, Illumina experts in high performance computing help clients set up or expand their IT infrastructure to support their current or planned sequencing needs for data storage and analysis. The customized IT plans provide laboratories with tailored hardware recommendations and peace of mind that their IT architecture will be able to meet the computing needs of their genomics workflows. It frees laboratories to focus on the science by mitigating reliance on institutional IT personnel with limited or no NGS experience.
Instrument Qualification and Compliance - For laboratories that need to satisfy specific performance and reporting needs, Illumina personnel offer reports that certify the instruments are performing according to specifications. This service can be provided either at initial installation or due to instrument relocation (Installation Qualification/Operational Qualification) or for requalification after a major service event or according to laboratory standard operating procedure (Performance Qualification).
Hands-on Training – For laboratories that need additional help gaining confidence with NGS, or training new staff, Illumina instructors provide hands-on training in the customer's own lab or at an Illumina Training Center. The fully customizable training enables researchers to learn best practices for optimal sequencing results.
Bioinformatics Professional Services –For laboratories looking to optimize their bioinformatics processes, this service enables researchers to achieve proficiency with Illumina informatics tools for data analysis. Specially trained field application scientists help laboratories determine the optimal informatics solutions for their research, and gain proficiency with the BaseSpace Suite and the informatics tools appropriate to their workflows.
Professional services can be especially valuable to new-to-NGS customers, including those adopting benchtop sequencers like the MiniSeq, MiSeq and NextSeq Systems. Despite push-button operation on Illumina benchtop sequencers, some laboratories face delays getting started because they don't have the right infrastructure or trained personnel in place.
"New-to-NGS laboratories sometimes experience challenges similar to laboratories scaling up their NGS operations. They need help configuring their laboratory space, storing and analyzing their data, and training their staff," added Chavez. "To address these needs, we've launched a consulting package designed especially for new-to-NGS MiniSeq customers to help them quickly set up their laboratories and get the most from their instrument purchase as quickly as possible."
Laboratories can bundle consulting services together to receive a discount over purchasing individual support services a la carte.