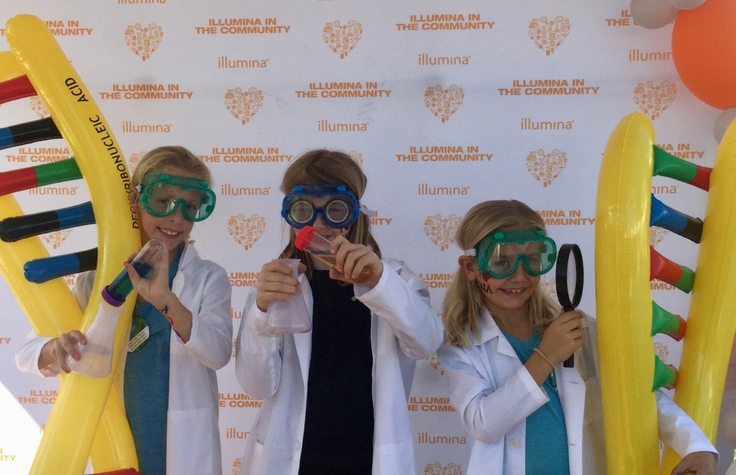 05 March 2018
For the fifth year in a row, Illumina was proud to sponsor the San Diego Festival of Science and Engineering, a week-long celebration of STEM (science, technology, engineering and mathematics). The week kicked off with over 22,000 attending the day-long EXPO at Petco Park on March 3. Students, parents, scientists and educators will continue to participate in STEM events and activities across San Diego County until March 11.
This year not only marks the festival's 10th anniversary but the 15th anniversary of the first sequenced genome and Illumina's 20th anniversary. With all these milestones coinciding, it's easy to reflect on the immense advancements in the San Diego biotechnology atmosphere while imagining where these future STEM learners could take us in the upcoming years. Illumina is proud to be headquartered in a city where science has room to flourish and expand in the local landscape.
In an op-ed published in the San Diego Union Tribune, Brian Steffy, Senior Lab Manager at Illumina, emphasized San Diego's rich presence of STEM giants.
"Our organization is doing amazing things, but that doesn't make us unique," said Steffy. "Look around the city: Qualcomm, the Supercomputer Center, Scripps Institute of Oceanography, Salk Institute, General Atomics and hundreds more. They're all leveraging STEM to help solve some of the world's most compelling problems, and also supporting local STEM education initiatives, like the San Diego Festival of Science and Engineering."
Illumina looks to continue inspiring and engaging young students to help grow the employee pipeline vital to the success of the many of the aforementioned companies. Festivals like this one are essential for connecting with students in person and inspiring them to explore careers in STEM.
"There's nothing better than watching a kid's eyes light up as they witness some cool technology they've never seen before," said Steffy. "They really hunger for the knowledge."
More than 100 passionate Illumina employees volunteered their Saturday to help host the activities and share their passion for genomics with students. Visitors to the Illumina booth turned their names into DNA codons beads and strung them onto necklaces and bracelets. They also had the opportunity to dress up like scientists with lab coats, glasses and other scientific props for a fun photo booth.
Steffy acknowledged that the festival is more than just a week of fun activities. "While making kids happy is clearly enough incentive to show off good science, there's an even deeper goal. The world needs – and will always need – scientists."
To learn more about the San Diego Festival of Science and Engineering visit https://www.lovestemsd.org/.