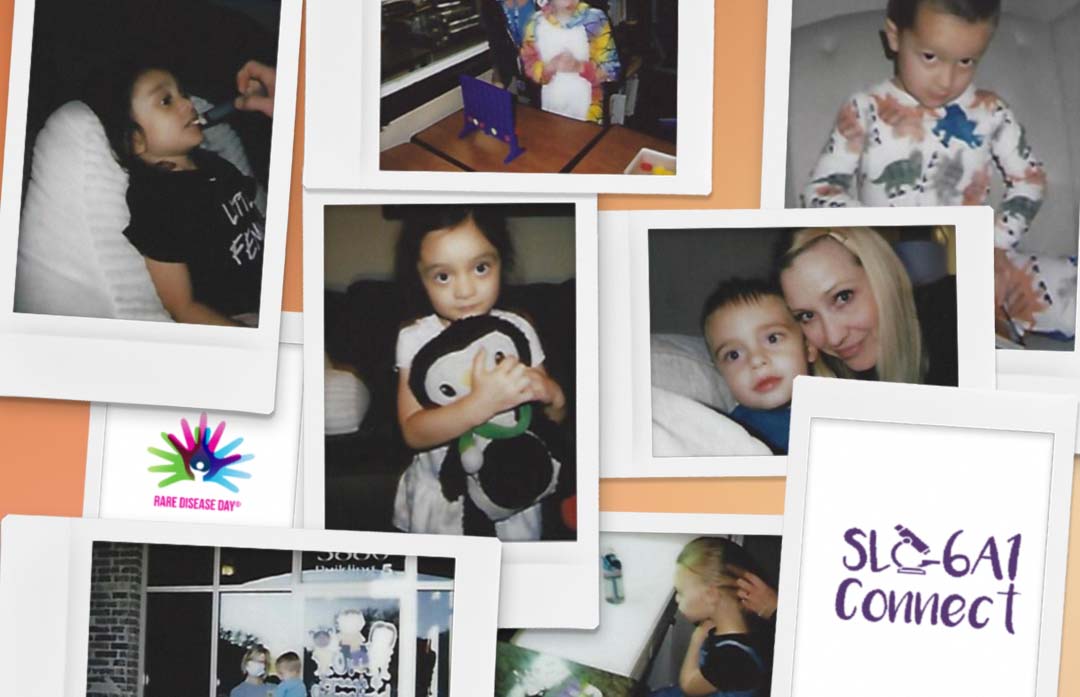 1 February 2022
Ahead of Rare Disease Day, Illumina is recognizing four rare disease patient organizations around the world. SLC6A1 Connect is the first in our series this month.
When Amber Freed was expecting twins four years ago, she never imagined her two babies would not grow up playing in parallel, learning in tandem, hitting the same milestones together, and mirroring each other in every way. The Frisco, Texas mom had one boy, Maxwell, and one girl, Riley. But from the beginning, Amber had the sense that something wasn't right. Maxwell wasn't using his hands, stared at his fingers constantly, and "looked like he was trapped in his body." Countless tests such as an MRI and EEG revealed nothing, and several doctors simply shrugged their shoulders.
At eighteen months, Maxwell was diagnosed with a disease so rare it doesn't have a given name—it's simply referred to by the gene name: SLC6A1. Disruption of the SLC6A1 gene affects neurological functions and intellectual ability, and can cause seizures and impair movement and speech. "The day we received the diagnosis was the absolute lowest moment of my life and a pain that I did not know existed on this Earth," says Amber. "All of the hopes and dreams I had for my perfect baby were shattered as I listened to doctors explain his life was over before it began."
To the casual observer, SLC6A1 is not immediately obvious. In Kansas City, Missouri, Kimberly Fry has a four-year-old son named Charlie who was diagnosed with the disease two years ago. "SLC6A1 is an incredibly complicated disease that has impacted Charlie and our families in so many ways," says Charlie's mom, Kimberly. "But it usually takes a video or a couple minutes with Charlie for one to really understand."
"As you're watching your child miss milestones while other kids fly by, you kind of know something isn't right, but tend to live in denial and say, 'She'll catch up,' to make yourself feel better," says Kristina Checklick, a Culver City, California mom whose daughter Rowen is also four. After genetic testing, the Checklick family learned that Rowen had not one but two genetic mutations, SLC6A1 and Noonan's Syndrome. "It was a day of lots of tears, but also a catalyst for a newly-found courage we'd learn to move forward with, because our little girl deserves that, and so much more.
Rowen was 22 months old when the Checklick family received the diagnosis. Other families wait much longer, sometimes exhausting all tests and available experts. "Children's Hospital in Seattle had 'run out of tests' to diagnose Ella," says Sarah Amandus, who lived eight years without an answer about her daughter's condition. "So, we decided to accept the fact that she wouldn't receive one and it was time to just support her with love." But around that time, the University of Washington had received funding to start a whole exome sequencing research project. Ella, who is now 12 and lives in Snoqualmie, Washington, was selected as the first patient. "About a year later on Christmas Eve, we had a check-in with the head of genetics at Children's," says Sarah. "We had completely forgotten about the test. He walked in and said, 'Do you want to know your daughter's diagnosis?' SLC6A1. We were floored but received a great Christmas present that year!"
In high-income countries, genetic disease patients often remain undiagnosed for up to seven years or more, while in low- and middle-income regions, many families never know the cause of their child's suffering. The "diagnostic odyssey" costs families time, frustration, money, and heartache. But whole-genome sequencing (WGS) is one way to arrive at a diagnosis within weeks.
Since receiving a diagnosis for Maxwell, Amber Freed founded a patient advocacy group, SLC6A1 Connect, to build awareness and raise funds for scientific research, with the ultimate goal of finding a cure.
Rare is many
While there are more than 6,000 individual rare genetic conditions like SLC6A1, rare disease is collectively common. Genetic diseases affect about 300 million people worldwide, the vast majority of whom are children.
In 2008, EURORDIS-Rare Diseases Europe, a nonprofit alliance representing 984 rare disease patient organizations in 74 countries, created Rare Disease Day to "work towards equity in social opportunity, healthcare, and access to diagnosis and therapies for people living with a rare disease." The day is observed every year on February 28 (or 29 in leap years—the rarest day of the year).
Illumina recognizes Rare Disease Day and extends it to the entire month of February in order to highlight and support various organizations. This year we are focusing on SLC6A1 Connect in the US, ASrid in Japan, NoRo in Romania and Rare Diseases South Africa. The patient advocacy team at Illumina sent Polaroid cameras and asked these four organizations to capture a day in the life of a rare disease family. We received hundreds of photos and anecdotes from families on four continents, some of which you see here (stay tuned for more throughout the month).
"It means the world knowing that there are people all around the world who sincerely work at making the lives of those with rare diseases better—whether they are therapists, volunteers, doctors and scientists, or loved ones who put their entire hearts into creating smiles and a life of joy," says Kristina Checklick.
At Illumina we embrace the mantra, "Rare is many, rare is strong, and rare is proud."