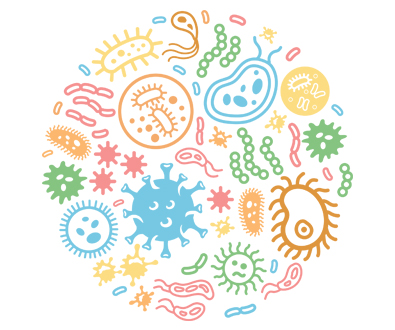 08 June 2017
The 2017 American Society of Microbiology (ASM) conference was held in New Orleans, Louisiana this month. With seven tracks and over 500 speakers, a significant variety of microbiology topics were presented, ranging from basic science to translational and clinical research applications. Some of the hot topics at this year's conference included studies focusing on antimicrobial resistance (AMR); the role of the microbiome in disease prevention, monitoring, and treatment including single-cell research; and exploration of genomics for outbreak prevention.
AMR has become an increasingly urgent topic, and Stefano Bertuzzi, CEO of the ASM, expressed the organization's commitment to promoting studies that focus on AMR. Metagenomics and nanotechnology are being used to address AMR by allowing researchers to tap into decades of knowledge on bacteriophage biology, capitalizing on the exquisite specificities combined with very effective antibacterial mechanisms of these viruses.
There is increasing evidence that the human microbiome plays significant roles in health and disease. Conversations about association studies have shifted towards the importance of the microbiome as a potential interventional tool. Highlights included Eran Segal from the Weizmann Institute of Science, who presented new insights on how the combination of gut microbiome data and clinical metadata can provide insight to how individuals uniquely respond to specific foods and diets. Ami Bhatt from Stanford University spoke about using barcoded Illumina sequence data to assemble microbial genomes from human gut metagenomes, and about how fecal transplants in immunocompromised patients protect against Clostridium difficile-associated disease (CDAD). The mechanics shaping the complex human microbiome are starting to be dissected with a presentation from Ilana Brito from Cornell University, who used single-cell sequencing to study horizontally transferred genes (HTG) within an individual's microbiome. She found more than 10,000 unique HTGs, and observed that dietary differences could shape how genes are shared between microbes.
One of the most popular sessions was on how next-generation sequencing (NGS) can aid in viral surveillance and outbreaks. Nathan Yozwiak from the Broad Institute, and Kristian Andersen from the Scripps Research Institute, discussed the impact that NGS can have in both the future prevention of outbreaks and the study of past viral epidemics such as Lassa, Ebola, and Zika. Michelle Coombe from the University of British Columbia described how NGS might be useful in studying environmental samples to monitor and prevent disease outbreaks in wildlife. In a separate session, Christopher Woods from Duke University developed a rapid genomics-based assay based on response to infection to identify the bacterial or viral culprits with nearly 90% accuracy. Denise Monack of Stanford University presented exciting work showing that Salmonella and other bacterial pathogens fight with normal gut bacteria to establish a foothold, aiding further understanding of how bacteria transmit disease.
The conference was a great opportunity for the microbiology community to come together and share basic and clinical research insights. NGS and microbial genomic studies continue to assist efforts in combatting AMR, advancing understanding of the impact of the microbiome on human health, and helping prevent and contain disease outbreaks.