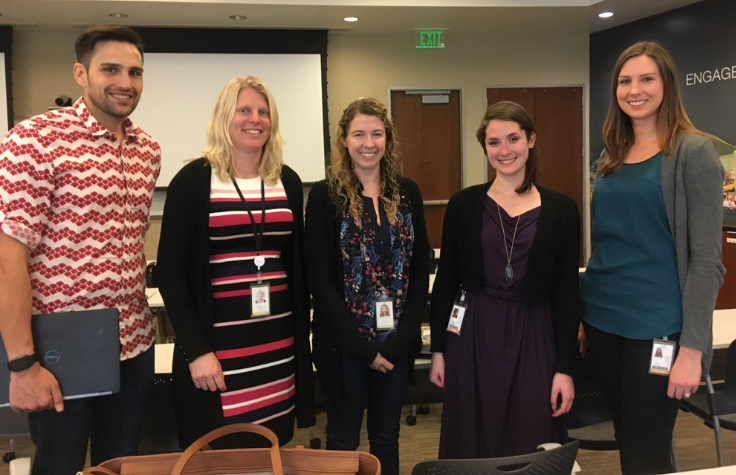 11 February 2022
Above: Illumina employees involved in cfRNA research, from left to right: Carlo Randise-Hinchliff, Fiona Kaper, Sarah Munchel, Suzanne Rohrback, and Sarah Kinnings.
As a global leader in DNA sequencing and array-based technologies, Illumina is continuously striving to improve human health by unlocking the power of the genome. That means focusing on innovation—constant innovation. In 2021, Illumina employees filed a record 171 new patent applications—a 69 percent increase over the previous year.
In celebration of National Inventors Day and International Day of Women and Girls in Science, we sat down with two Illumina employees whose recent work contributed to a patent application for a circulating RNA signature they discovered in early-onset preeclampsia. Sarah Munchel, associate principal scientist, has filed 13 patent applications and Suzanne Rohrback, senior scientist, has filed three patent applications. They spoke to us about falling in love with genomics, making discoveries, and what's ahead in the years to come.
What intrigues you about the study of genomics? When did you realize this was your calling?
Suzanne: I've always liked puzzles, and genomics is like the most multidimensional, complex puzzle that is hiding so much valuable information about who, why, and how we are. It's incredibly satisfying to find a pattern in a mountain of data that gives you new insights (and usually new questions). I actually avoided genomics for a long time, though, saying it's too complicated, it's too much math, coding sounds boring. Not until halfway through my PhD did I happen to dip my toe in the field… and I pretty much instantly did an about-face on all those ill-informed notions.
Sarah: I have always found the concept of using molecular biology to understand complex disease really interesting. I was exposed to this in college in biochemistry and genetics courses—we learned about the molecular causes of diseases like cystic fibrosis and sickle cell anemia. I think what really clinched it for me, though, was an ethics class I took in college where we talked about the possibilities of harnessing our knowledge of genetics to change our health. This was before gene editing was even a reality, but I remember thinking that the possibilities here are truly endless. Illumina sequencing came into existence during my PhD and once that technology was available, I was hooked.
Tell us about publishing the STM article and your most recent research on cell-free RNA and how it can be used for early detection of preeclampsia.
Suzanne: We hope our study is the first of many that will culminate in early prediction and diagnostic approaches for preeclampsia! When we began this work there were only a handful of papers starting to show that cfRNA can reflect health changes and, in particular, detect dynamic changes in pregnancy. The study we published took this knowledge to the next step—a proof-of-concept study asking: can cfRNA detect consistent, biologically-relevant changes in a disease? Now that we know the answer is a resounding "yes," the next steps will involve much larger clinical studies that collect samples throughout pregnancy to identify predictive biomarkers, followed by validation studies to confirm the utility of such biomarkers in diverse populations.
In the process we discovered a combination of cfRNA transcripts that can be used to differentiate between women with early-onset preeclampsia and those with non-complicated pregnancies.
Sarah: What is really exciting for me is that we developed our analysis methods to take into account the biology of cfRNA. This was a key component for how we were able to successfully identify a stable signature in our data. The strength of the paper is that we show that cfRNA is not too noisy or unstable a signal. It is actually a viable biomarker with tremendous potential.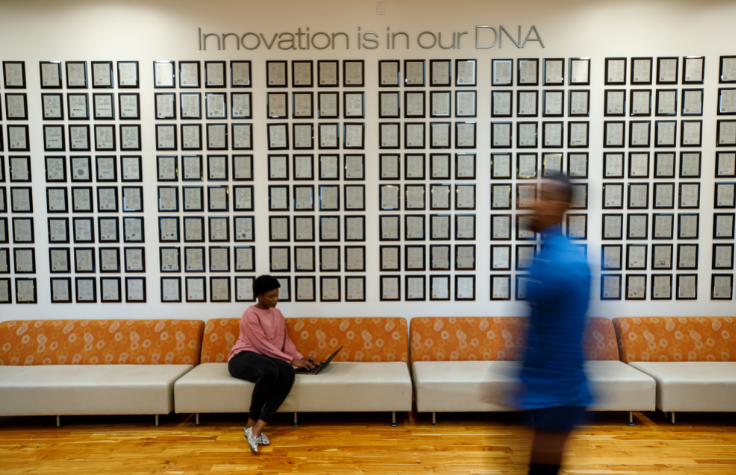 What is your advice for people getting into STEM careers?
Suzanne: Be open to new experiences and ideas—you never know what will spark your passion or connect to a bigger picture. Embrace collaboration—my best (and most enjoyable) scientific work has always been as part of a team that brings together people with different expertise and fosters open discussion. Don't be afraid of being wrong, it's an important part of the scientific process. I'm wrong all the time and while that's sometimes uncomfortable, it's also empowering, as being able to recognize this lets you move on from a fruitless direction, challenges you to think more broadly, and helps you design more open, informative experiments.
Sarah: Suzanne totally stole my answer! I think my biggest advice is to not worry too much about looking stupid. Ask lots of questions when you don't understand—especially in the context of invention. I cannot tell you how many times I have observed someone ask an extremely basic question that leads to an entire new line of thinking.
Looking ahead, what work are you most excited about at Illumina?
Suzanne: I'm excited about the increasing focus on multiomics! Partnering with SomaLogic on proteomics assay development expands our technology into a whole new dimension. I believe that combining information from across the genotype-to-phenotype spectrum is going to be quite challenging but incredibly rewarding and enable a new era of discovery for complex disease.
Sarah: I think what is most exciting for me is what I don't know yet! So I look forward to seeing what new things Illumina will start doing in the years to come that haven't even been conceived yet.