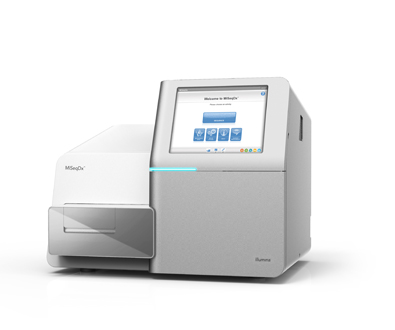 23 March 2015
In February 2015, Illumina received regulatory approval from Health Canada for the MiSeqDx Instrument, the MiSeqDx Cystic Fibrosis 139-Variant Assay, and the MiSeqDx Cystic Fibrosis Clinical Sequencing Assay. The approval is the first for a next-generation sequencing (NGS) system in Canada, and follows U.S. Food and Drug Administration (FDA) clearance of the system and assays in late 2013.

The MiSeqDx Instrument offers users the ability to run diagnostic or research applications on a single, easy-to-use system. Designed and validated for the clinical market, the MiSeqDx and portfolio of licensed in vitro diagnostic kits and assays leverage Illumina's sequencing by synthesis chemistry for high confidence in results.
The MiSeqDx Cystic Fibrosis 139-Variant Assay is designed for simultaneous detection of 139 clinically relevant disease-causing mutations and variants within the cystic fibrosis transmembrane conductance regulator (CFTR) gene. The assay is the most comprehensive test available and covers not only all of the cystic fibrosis-causing variants recommended for carrier screening purposes by the American College of Medical Genetics and Genomics and referenced by the Canadian College of Medical Geneticists, but also many additional disease causing variants occurring in multiple ethnic sub-groups.
The MiSeqDx Cystic Fibrosis Clinical Sequencing Assay leverages Illumina's targeted resequencing chemistry to provide highly accurate sequencing data for the protein coding regions and intron/exon boundaries of the CFTR gene.
"This is an exciting milestone for the MiSeqDx instrument," said Kirk Malloy, Senior Vice President and General Manager of Illumina's Life Sciences Business. "Approval from Health Canada enables us to provide clinicians and clinical laboratories with the tools needed to obtain comprehensive and reliable results from a next-generation sequencer, as well as to create and deploy NGS-based molecular diagnostic tests for cystic fibrosis."
Added Mya Thomae, Illumina's VP of Regulatory Affairs, "Illumina is thrilled to receive approval from Health Canada for the MiSeqDx instrument and the cystic fibrosis assays. The regulatory affairs team at Illumina is working hard to deliver on a worldwide regulatory plan, to ensure our clinical products reach customers across the globe."