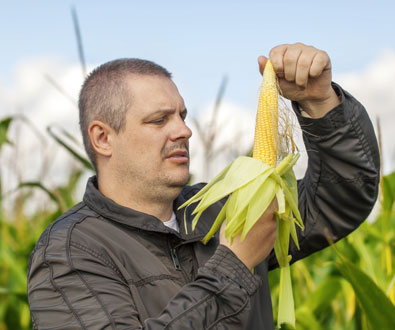 19 November 2015
Maize, or corn, is an important crop to the world economy as a source not only of food for humans, but also a component in ethanol fuel, and livestock feed. According to USDA Data in 2013 and 2014, it was the largest of any U.S.-grown crop (in terms of acres harvested). As a crop with high levels of genetic diversity, maize enables breeders to support growers with seeds that are optimized to local conditions (climate, soil, etc.).
To aid in interrogation of genetic variation in maize, Illumina launched the MaizeSNP50 BeadChip in 2010, and gave researchers and seed companies the power to interrogate more than 55,000 variants across the maize genome. Despite this robust offering, seed companies and public breeding programs demand more curated information about maize genetics because they need to be able to analyze large sample volumes to optimize breeding efforts. At the same time, the international seed community has recently agreed upon a new set of genetic variants for use in determining essentially derived variety (EDV) status (which is important for establishing intellectual property rights for seeds). Mike Thompson, Director, Market Development, Agricultural Genomics, tells us how the new Illumina MaizeLD BeadChip will address both needs.
Why are there new standards for registering new varieties of maize?
An essentially derived variety (EDV) of a plant is one that has been derived from an initial variety and retains the essential characteristics of that variety, despite differences. EDV testing can be used to balance intellectual property rights of breeders of initial varieties with those of subsequent breeders who use initial varieties to develop new varieties. It is one measure that contributes to the overall understanding of a new crop variety because it can be used to demonstrate that a new variety has significant improvements and not merely cosmetic differences from an initial variety. In some ways, plant variety protection conferred through this process is similar to protecting the claims of a patent.
Historically, simple sequence repeats (SSRs) were the basis for establishing the relationship between an EDV and an initial variety. But with new technologies, the seed community determined that single nucleotide polymorphisms (SNPs) are better markers for EDV testing. They have largely replaced SSRs with SNPs due to their high abundance and higher density map resolution, higher throughput, lower cost, lower error rate, and their universal use across laboratories.
What is the MaizeLD BeadChip and how was it developed?
The MaizeLD BeadChip is an Infinium array in a 24 sample format. The chip includes 3,072 markers, and gives customers the opportunity to add additional custom content, up to 90,000 total markers. The markers included on the BeadChip are informative SNPs, which are spaced across the maize genome.[1]
The content on the BeadChip was identified by testing maize lines from both the U.S. and Europe with the MaizeSNP50 BeadChip. Through a five-year collaboration between the American Seed Trade Association (ASTA) and French Breeders Association (UFS), with support from the International Seed Federation (ISF), the 3,072 markers on the BeadChip were agreed upon as providing equivalency to SSRs.
Beyond EDV testing, how will the MaizeLD BeadChip be used?
Breeders (public and private) have a strong interest in predicting the future performance of a seed. Existing tools for genetic analysis, like the MaizeSNP50 BeadChip, have demonstrated that genomic approaches to predicting performance are effective. The MaizeLD BeadChip has focused the content from the MaizeSNP50 BeadChip to serve as an effective base array with utility across a broad range of maize varieties. Many breeding programs will take advantage of the product's flexibility to add custom content, complementing the base array for their specific varietal and geographical needs. It is also a cost-effective tool for breeders to examine informative variants across the genome and to derive genomic breeding values that will accelerate breeding programs.
[1] Study on Essential Derivation in Maize: III. Selection and Evaluation of a Panel of Single Nucleotide Polymorphism Loci for Use in European and North American Germplasm. Crop Science, 2015; 55(3): 1170-80.