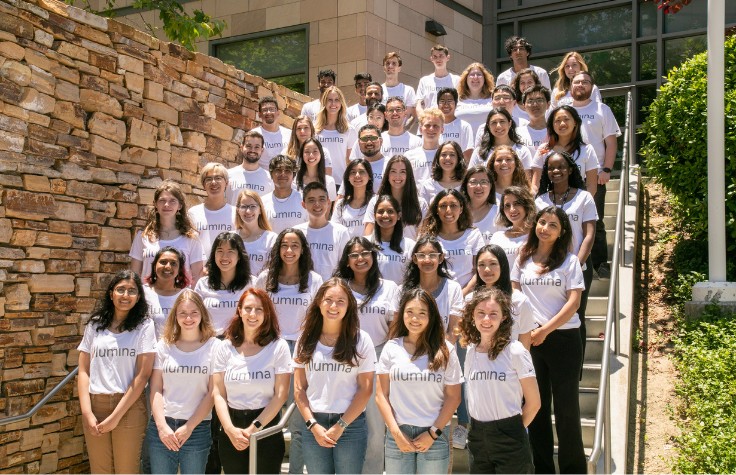 4 October 2023
When Adee Newman started her summer as a research associate Intern at Illumina in June 2023, she had no prior industry experience. Originally from Palo Alto, California, she spent two years at De Anza College before transferring to University of California, San Diego (UCSD). Currently, she is a master's student in biology with a research emphasis of epigenetics and genomics at UCSD.
Newman's internship was based in San Diego, but she was able to work remotely. We caught up with her at the end of her internship last month to hear about her experience.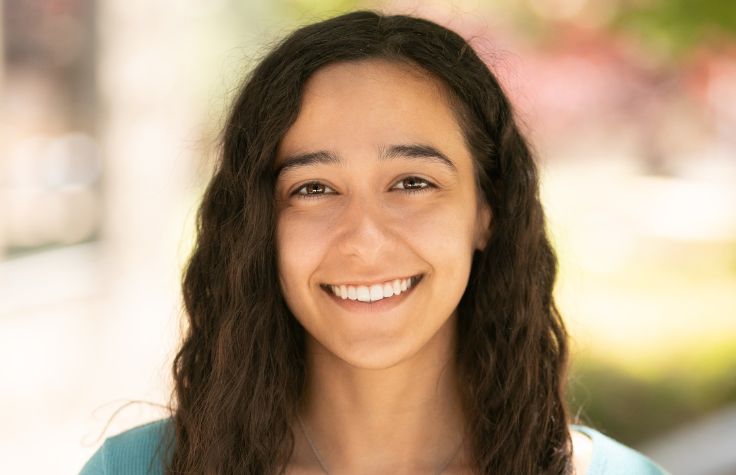 How did you first become aware of Illumina? Why did you apply for an internship?
Adee Newman: We use Illumina sequencers in the lab that I do research in, which is how I first learned about Illumina. I saw a few ads for the internship on LinkedIn and Handshake and applied when I got a message from a recruiter. I was curious about experiencing industry so I can make an informed decision about my next career decision—so this felt like the perfect opportunity!
Has anything surprised you about working in industry?
AN: I wasn't sure what to expect the day-to-day to be like, but it has been wonderful. I appreciate the independent work, but it doesn't get lonely either, as we collaborate a lot. I've learned about organizational structures and various other career paths. There is no "right way" to go about your career path and you should keep an open mind when you are starting out! In speaking with people within the company I've received a lot of advice and fresh perspectives, which is unbelievably valuable to me at this point in my career.
What kind of work are you doing?
AN: I'm interning with the Clinical Affairs team and I've learned so much about clinical trials. My internship project was creating a process map of all the actions and activities that are required during a clinical trial, as well as reviewing the standard operating procedures and work instructions for the various activities. I also met with subject matter experts from various Clinical Affairs teams—protocol and clinical study report writing from Medical Writing, data handling from Clinical Data Management, and others—to better understand the process and better create a process map.
What did you learn about clinical trials?
AN: My favorite thing I learned is that we're able to have a direct impact on people and health outcomes much sooner just with how clinical trials work—it's so complex and has so much cross-functional collaboration, it basically looks like a Chutes and Ladders game. You can take some steps that can move you through the board faster, but if someone wants to change something or if there's an issue with a specific aspect, you might hit a chute and it could take you back almost to the start! Because of that, teamwork and collaboration are extremely important, and I love that about Clinical Affairs.
Are you interested in pursuing any specific area in biotech?
AN: I'd love to work on and support various clinical trials that focus on improving aspects of human health on a large scale. I think it would be amazing to work on a project that would help or provide a solution for a problem that affects a large population. It would also be great to work on oncology and companion diagnostics.
Has your internship experience helped you determine the next steps in your career?
AN: Yes! Hearing everyone's experiences has helped me decide that I will likely work for a few years before deciding if I want to continue or go back to academia. If you want to pursue academia, you should be passionate about it—otherwise it may not be the right career choice for you.
What advice would you give students contemplating moving from academia to industry?
AN: Give it a try! If you are curious about it, you should experience it for yourself so you know what you will be doing. It's one thing to hear from people, but another thing to see it for yourself. Don't be scared of stepping out of your comfort zone.
Illumina's internship program introduces students to the corporate world while remaining centered around learning: learning about yourself, learning about the biotech and genomics industries, and learning from experienced professionals and leaders in your field. Each summer, our interns apply their knowledge to impactful projects and discover the various career paths available to them. The hands-on work, professional development workshops, and simple conversations with mentors and peers can influence one's path forward. Interested in experiencing life at Illumina? For more information about our summer internship program, please visit our intern careers page.