27 September 2023
On September 2, 11 Illumina teammates embarked on a journey up the formidable Passo dello Stelvio as part of the
Stelvio for Life
charity event. As they cycled, walked, and even ran their way up this challenging mountain pass in the Italian Alps, they did so with a singular purpose: to support an organization working to advance research into personalized cancer treatments.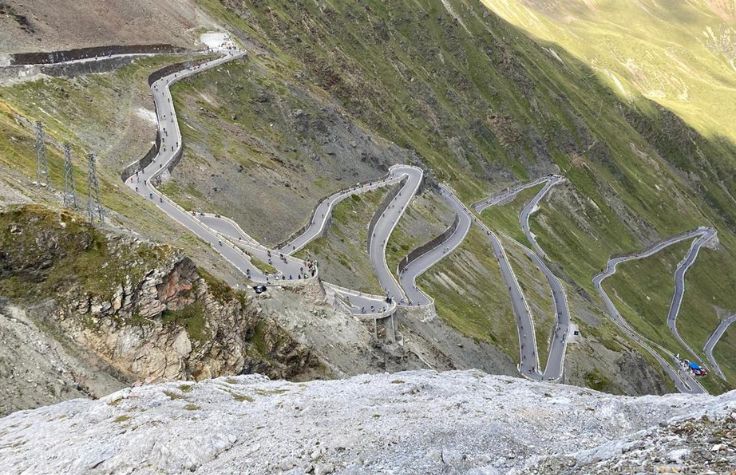 At Illumina, our mission to improve human health by unlocking the power of the genome guides everything we do, from business decisions to our corporate citizenship program activities. Our people are committed to giving back to the communities where we live and work and are passionate about connecting to our mission. And we are not afraid of a little sweat.
The hike aims to raise awareness and funding for the Stelvio for Life Foundation. This foundation is unwavering in its commitment to supporting the cancer research carried out by the Center for Personalized Cancer Treatment (CPCT) in the Netherlands. At its core, this research seeks to revolutionize cancer treatment by harnessing the power of DNA analysis. In recent years, the CPCT has conducted groundbreaking studies, including the Drug Rediscovery Protocol trial, a nationwide clinical research effort that matched patients with targeted therapies based on specific DNA alterations identified through whole-genome sequencing (WGS) performed by the Hartwig Medical Foundation.
These initiatives have shown great promise in offering cancer patients more effective treatment options tailored to their individual genetic makeup. In fact, evidence generated by the CPCT was fundamental in the Dutch government's decision to reimburse WGS as standard of care for patients facing cancers of unknown primary diagnosis.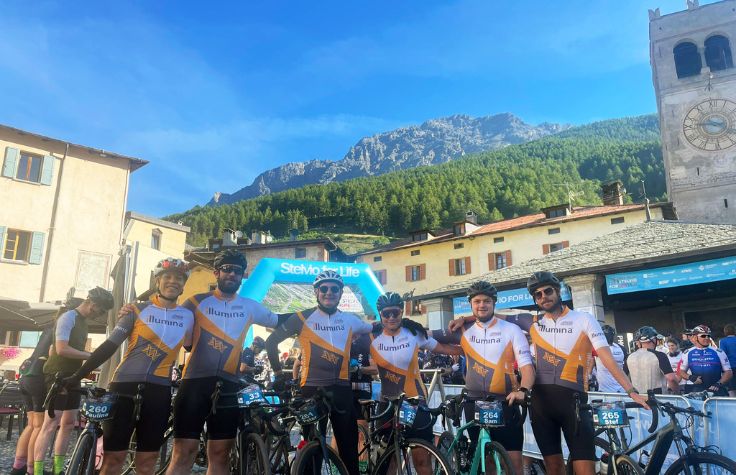 The 2023 hike drew participants from diverse backgrounds and regions and united them under a common cause. The same dedication of Illumina's 11 employees was reflected in the hundreds of other people who took part, further highlighting the strength of the international community's commitment to finding innovative solutions to cancer.
"It was a great couple of days," says cyclist Chris Zwanenburg, an Illumina executive sales specialist based in the Netherlands. "The spirit was high, and everyone was energized to climb and overcome this giant of a mountain. We were all very proud to see the Illumina banners and logo all over the place. It was a clear message that both employees and the company are supporting this incredible cause so close to our hearts."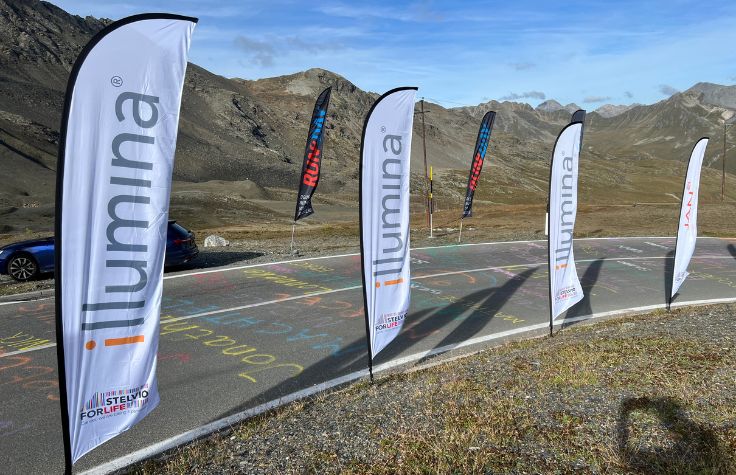 The outcome was equally impressive on the financial front. Participants were encouraged to raise one euro for every meter of altitude they climbed, and the event raised a total of 23,000€ for cancer research. This journey up the Passo dello Stelvio aligns with the Illumina Corporate Foundation and Corporate Social Responsibility (CSR) program's commitment to deepening the company's impact on human health, community, and our planet.
Illumina's CSR initiatives extend beyond financial contributions. Employees are actively involved in giving back through volunteer opportunities, a matching donation program, and volunteer rewards. This enables employees to connect with causes that both resonate with them personally and align with the company's mission, like Stelvio for Life. For those who participated and those who donated, the event was proof that, united by a shared purpose, individuals can help create a better future for all those affected by cancer.