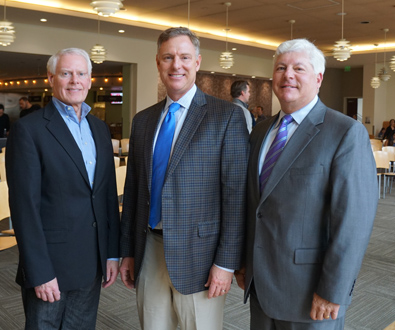 06 May 2016
Representative Scott Peters (D-San Diego) visited Illumina headquarters today for a town hall meeting with employees. At the meeting, he discussed supporting San Diego's innovation economy, public policies focused on research funding, comprehensive immigration reform, improving access to education, and an improved patent system that safeguards intellectual property.
"As part of meeting with our Congressman, we wanted to create an opportunity for our employees to ask him about what's going on in Washington, and how it impacts our business," said Jay Flatley, Chairman and CEO of Illumina.
Rep. Peters praised Illumina for its work to make the health care system more efficient by ensuring that the right treatments get to the right patients at the right time. "Innovative San Diego companies like Illumina are improving health care around the world," he said.
Employees asked a range of questions about public policy changes needed to facilitate technological innovation from intellectual property to cybersecurity. Other questions focused on specific policies needed to ensure the rapid adoption of genomics technologies in health care, such as Food and Drug Administration funding, and Medicare reimbursement for genetic counseling services.
The two-term Congressman is co-chair of the Congressional Life Science caucus and is a member of both the Congressional Biomedical Research Caucus and Congressional STEM Education Caucus. He represents the district which includes Illumina headquarters in San Diego and was recently named Legislator of the Year by the Biotechnology Innovation Organization (BIO).