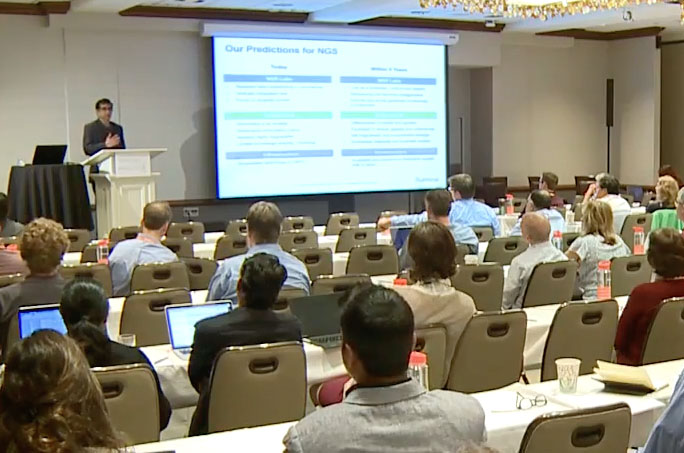 26 October 2016
The consensus among leading genomics and health care experts who gathered at BaseSpace Suite Summit was clear: one of the most significant challenges in implementing precision medicine in health care today is informatics. More than 100 health care IT leaders, technology innovators, and physicians from around the country and as far away as Mexico and Argentina, called out the need for data systems integration with genomic and clinical data.
The summit took place in early October in Rochester, Minnesota, ahead of the Mayo Clinic's Individualizing Medicine Conference. Participants attended panel discussions, group talks, and interactive workshops, which included speakers from the Mayo Clinic, HudsonAlpha Institute for Biotechnology, New York Genome Center, as well as leading genomics organizations and research labs.
The declining cost of sequencing has enabled broad access to genomic information, but participants at the summit emphasized the need for integrated solutions that help them readily manage and interpret the data, while ensuring privacy and security.
Sanjay Chikarmane, Senior Vice President and General Manager for Enterprise Informatics at Illumina, said the company has spent the past three years increasing focus on addressing these gaps by building its talent with an expanded team of software developers, bioinformaticians, and scientists that focuses solely on informatics to help accelerate the adoption of sequencing. BaseSpace Informatics Suite provides a seamless, integrated informatics solution across research, clinical research labs, and translational research.
"Illumina has focused on lowering the key barriers to sequencing in informatics by developing a comprehensive solution that integrates the acquisition, management, interpretation, and aggregation of genomic data in one workflow," said Chikarmane. "Users can match the findings from the genomic data to a digital library of clinical publications in real time to make informed decisions, saving time and resources."
BaseSpace Informatics Suite is a comprehensive suite of informatics solutions built upon a common software platform. Unifying key functionality through laboratory information management, data storage, analysis, and interpretation enables users to deliver high-quality genomic information and apply the findings to research and translational applications.
In addition, Chikarmane presented his predictions on the evolution of bioinformatics and its role in precision medicine while highlighting Illumina's key focus areas in enterprise informatics. See Illumina's key focus areas in the video.