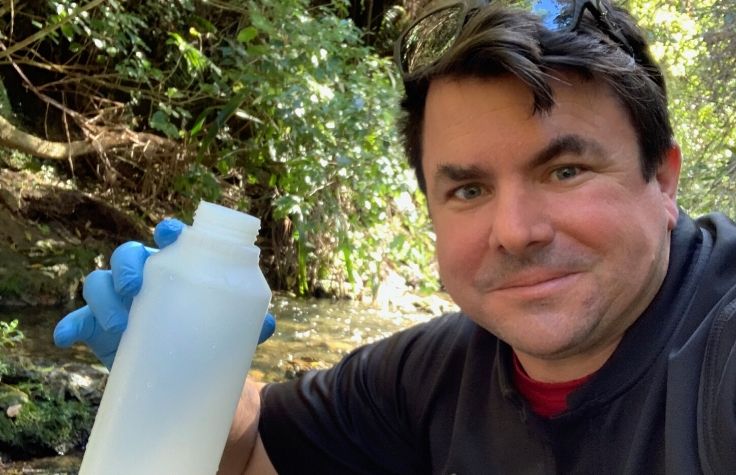 13 December 2019
Environmental DNA (eDNA) sequencing is a rapidly emerging method for studying biodiversity and monitoring ecosystem changes. As organisms shed DNA into their surrounding environment, eDNA analysis picks up these genetic 'breadcrumbs' and provides clues about all the species present in a sample – from microbes (bacteria) to megafauna (e.g. sharks).
Professor Bunce has conducted research in the fields of ancient and environmental DNA at several universities - most recently Curtin University (Perth, Western Australia) where he co-founded the Trace and environmental DNA (TrEnD) laboratory. His primary areas of research includes the study of ecosystem biodiversity using next-generation sequencing (NGS) where he has looked at fossil bones to understand extinctions* and eDNA seawater to survey fish in marine parks**. "The fact that we can detect over 80 species of fish from the DNA they leave behind in a few liters of seawater from a coral reef is still a finding that I find amazing," says Professor Bunce.
Professor Bunce explores the many facets of eDNA in the ocean. Including the benefits of metabarcoding that gives a window into what lies in the deepest depths of our oceans. He explains how ecosystem based management is a pathway to help understand how everything is interconnected. Additionally, the community science program "Sequencing of the Seas" (SoS) allows school students to get first-hand experience and helps connect people to their local beach.
"I believe that eDNA will become a key source of data that enables us to make informed conservation decisions - and let's face it - given the challenges we face in our oceans, rivers and land, it is time when making good decisions really matters," says Professor Bunce.
"For people to find fish, coral or sharks that live in that ecosystem through eDNA makes them ecosystem explorers, but there is an added benefit," says Professor Michael Bunce. "It raises people's awareness of genetics and genomics at a time when people will be asked to make important decisions regarding their genome, ancestry, microbiome, and genetic modification. I'm perhaps a bit biased, but I take any opportunity I get to educate about what DNA is, how it functions, and how we can capture it to explore the world around us."
Innovative approaches to harness the power of eDNA are expanding rapidly and include: Port monitoring, biodiversity surveys, ballast water testing, soil testing, aquaculture, pollinator identification and restoration, among other things.
*Subsistence practices, past biodiversity, and anthropogenic impacts revealed by New Zealand-wide ancient DNA survey
FV Seersholm, TL Cole, A Grealy, NJ Rawlence, K Greig, M Knapp, M Stat, ...
Proceedings of the National Academy of Sciences 115 (30), 7771-7776
**Ecosystem biomonitoring with eDNA: metabarcoding across the tree of life in a tropical marine environment
M Stat, MJ Huggett, R Bernasconi, JD DiBattista, TE Berry, SJ Newman, ...
Scientific Reports 7 (1), 12240