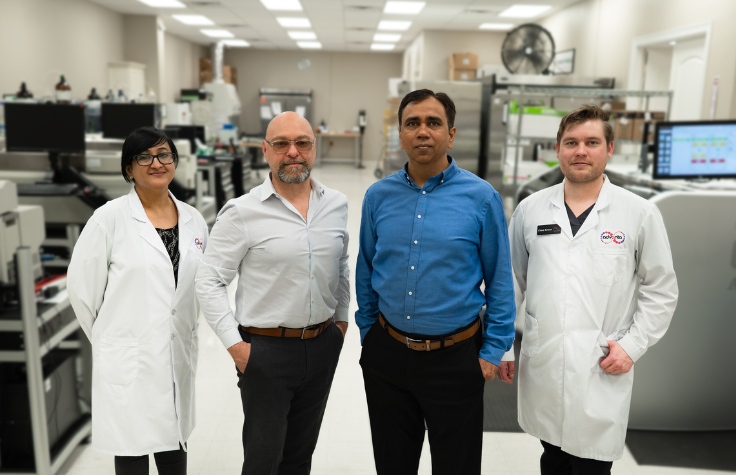 10 May 2023
"When I was studying tuberculosis for my doctorate, we used to say that drug resistance is a humanmade problem," says Rahul Sharma, PhD, chief innovation officer of Advanta Genetics. "It's not a natural problem, because we selected treatment based on empirical evidence, and administered imprecise antibiotic therapy. Precision metagenomics is the direct opposite of that—you choose the antibiotic therapy based on the comprehensive microbial profile of a given infection, including the antimicrobial resist markers."
Advanta Genetics is a 50-person clinical and research laboratory whose mission is to drive equitable access to timely and accurate medical care through innovation and the adoption of new technologies. Based in Tyler, Texas, Advanta was originally founded as a routine clinical lab to service the local region. But today they largely focus on infectious disease testing and research through their microbiology culture, PCR, and next-generation sequencing (NGS) facilities. Accordingly, Advanta has processed about 1 million SARS-CoV-2 samples since the start of the pandemic.
Although Advanta specialized in infectious diseases before 2020, the years since have only placed greater emphasis on molecular diagnostics. "The paradigm of infectious disease diagnosis is shifting," says Sharma. "We realized that NGS and molecular diagnostics in particular were going to be central to infectious disease diagnosis moving forward, and we want to be as cutting edge as possible."
Sharma's main role is to actively seek out new research technology and bring it into the clinical setting, offering laboratory developed molecular tests to small medical practices and large hospital systems.
Advanta is currently developing multiplex qPCR-based panels with Scienetix, a company Sharma cofounded with Advanta CEO Rob Carpenter, PhD. Their goal is to eventually migrate to NGS-supported products for faster and more economical infectious disease diagnostic workflows. Because, Sharma says, "if you're doing PCR, you can find only what you're looking for. There is no PCR panel for pan-infectious diseases or a urinary tract infection [UTI] —only for particular bugs."
Precision metagenomics, on the other hand, uses NGS and allows researchers to comprehensively sequence the entire genetic content of all organisms present in a given complex sample. The technology reduces the time needed to learn critical information about a microbiome from weeks to hours.
Precision metagenomics, then, could change the landscape of infectious disease diagnosis and care as we know it. In the United States, UTIs are among the most common infections, accounting for an average of 10 million office visits and 1 million hospitalizations per year. While the standard of care continues to be microbial culture and sensitivity, the prevalence of drug resistance in the microorganisms that cause these infections is increasing. Antibiotic treatment for acute infection or for prophylaxis often fails to prevent recurrent infections.
Clinical labs must provide accurate results in a timely manner so physicians can make the most informed decision for their patients—often when their lives are at stake. "In academic labs, there are resources and time—they can keep digging into the data and identify what's useful or what's not useful," says Sharma. "I don't have two postdocs who can stare at data for months."
Advanta validated various tests that detect and quantify hundreds of organisms and pathogens, as well as thousands of antimicrobial resistance markers. A fully automated data analysis platform produces customized reports providing actionable results.
A commercial lab does research
Sharma's background is in academia, and he's been using NGS to research infectious diseases since 2009. For a decade, he was the head of molecular biology for the National Hansen's Disease Program, the only US federal government program on leprosy research. His laboratory used NGS to prove that people in the southern United States were contracting leprosy from armadillos. "Anything unusual and challenging excites me," says the CIO, who is always looking for innovative solutions. "If I find a technology that I can apply to a project—whether epidemiological or clinical diagnostic development—that's what excites me. I can stay up all night if I find something like that."
In 2020, Advanta established its own research department. The company has developed a strong research culture to distinguish itself as an emerging leader in infectious disease; they have published multiple papers in the two years since Sharma joined them, and they have several other articles in draft stage.
Two of their most recent papers have explored NGS workflows. The first paper published in Practical Laboratory Medicine focused on optimizing the Illumina COVIDSeq protocol for more cost-effective genomic surveillance. This paper was subsequently highlighted by the Centers for Disease Control and Prevention for advanced molecular detection. A second paper, published in Advances in Respiratory Medicine, studied the effectiveness of PCR versus metagenomic NGS methods for diagnosing lower respiratory infections. They were able to detect 29 additional upper respiratory microorganisms using the Illumina Respiratory Pathogen Infectious Disease/Antimicrobial Resistance Panel (ID/AMR), or RPIP that were not detected by using the targeted qPCR panel. RPIP targets over 280 respiratory pathogens, including SARS-CoV-2, influenza, respiratory syncytial virus, bacteria, fungi, and more than 2000 AMR markers.
Advanta also uses Illumina Urinary Pathogen Infectious Disease/Antimicrobial Resistance (ID/AMR) Panel, or UPIP, a test that detects and quantifies over 170 organisms that can cause genitourinary infections, including those that are drug resistant and cause complicated and recurrent UTIs. UPIP also identifies more than 3700 AMR markers associated with 18 different drug classes. UPIP and RPIP are used with the fully automated data analysis platform Explify, which provides a comprehensive infection profile across bacterial, fungal, viral, and parasitic microbes.
Advanta is also collaborating with the Department of Microbiology at the University of Texas at Tyler Health Science Center to research nontuberculous mycobacteria and the other aerobic actinomycetes that can cause pulmonary diseases that look like tuberculosis. "Not many people look for those slightly different strains or slightly different species of mycobacteria, and sometimes the antibiotic treatment is different," Sharma says. "So that's where precision metagenomics becomes important in the toolbox for diagnostic specificity and accurate, personalized medication delivery.
"It might seem like too much work just to prescribe an antibiotic. It's an expensive test. But if you compare the overall savings to the health care system, particularly in complicated infection cases where the patient has to have an IV infusion or long-term hospital stay, it's worth it. If you can release a patient three days earlier by prescribing them the antibiotic that is 99% likely to work, or at least ruling out the ones that are not going to work, then you can make the case that it's financially beneficial as well."
Following the path of precision oncology
Sharma sees an opportunity to fundamentally change the way infectious disease is diagnosed and treated. He points to the field of oncology, where it's more common to do a comprehensive genomic analysis of a tumor sample or test for selective genetic markers to predict the therapy response. The Food and Drug Administration has approved several anti-cancer drugs with a companion diagnostic test. "That's not very common in infectious disease treatment. If you keep treating patients without knowing what the response will be, you can create more antibiotic resistance. It wastes time and can be detrimental to the patient.
"Eventually, if every patient is being treated based on not just clinical presentations, but the genomic or phenotypic evidence—that will most likely reduce this 'pandemic' of antibiotic resistance that is coming. The pharmaceutical industry doesn't have much interest in developing new antibiotics, so we have to use what we have very precisely and very selectively. Precision metagenomics provides the information to act upon in terms of the antibiotic treatment. That's the only way to stop this drug resistance pandemic."
To learn about the Illumina Respiratory Pathogen Infectious Disease/Antimicrobial Resistance Panel, click here.
To learn about the Illumina Urinary Pathogen Infectious Disease/Antimicrobial Resistance Panel, click here.