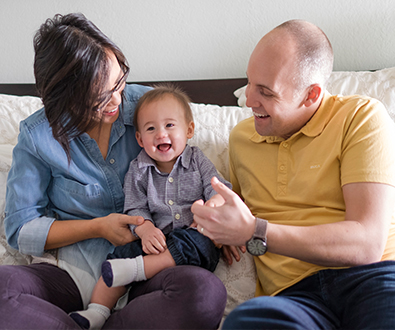 28 April 2016
Infertility is a disorder of the reproductive system that impairs the body's natural ability to reproduce. For women under the age of 35, infertility is defined as attempting to achieve pregnancy for one year without success or being unable to carry a pregnancy to live birth. Approximately 1 in 8 couples (or 12 percent of women) in the U.S. have trouble getting pregnant or sustaining a pregnancy.
Like many others, Vy and Kyle, 34, struggled with infertility before using in vitro fertilization (IVF) to conceive their first child. But it was when they were trying to get pregnant with their second baby where they learned about an option that can be added to IVF to help determine which embryos have a genetically normal make-up and could be most likely to implant successfully during IVF. They decided to try preimplantation genetic screening (PGS).
Chromosome aneuploidy, or an abnormal number of chromosomes, is a major cause of IVF failure. PGS screens all 24 chromosomes for an accurate and efficient view of the health of an embryo and can help determine which embryos are the most viable for IVF. Now with a healthy baby boy named Miles, Vy and Kyle reflect on how PGS technology helped them overcome their infertility issues.
*In exchange for Vy and Kyle's participation in this video, Illumina made a monetary donation to RESOLVE, the National Infertility Association.