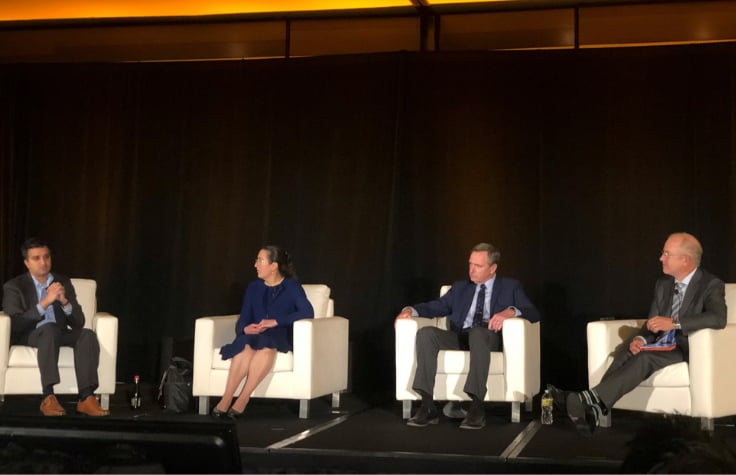 10 June 2022
This year's American Society of Clinical Oncology (ASCO) 2022 Annual Meeting took place in person at the Hyatt Regency in Chicago and online, June 3-7. Thousands of oncology professionals, patient advocates, and industry representatives convened for the world's largest clinical oncology meeting to discuss the latest scientific and medical research.
A key topic was the implementation of comprehensive genomic profiling (CGP) in the clinic as a powerful approach to maximize cancer treatment options following diagnosis.
During a June 4 networking event entitled, "Unlocking Precision Medicine: The Transformational Impact of Comprehensive Genomic Profiling," Illumina's Chief Medical Officer, Phil Febbo, MD, and Kevin Keegan, VP and GM, Oncology, hosted a panel of leading oncologists from select community and academic programs. Each panelist described representative patient cases in which CGP changed the patients' lives. Next, Dr. Febbo asked the oncologists about their practice patterns and using tissue versus liquid biopsy.
"My practice is to order blood and tissue at the same time," said Dr. Sandip Patel, MD, Medical Oncologist, Associate Professor of Medicine, UC San Diego Health, "not with the goal of doing duplicative, expensive testing but because typically within seven days we'll get the results of the liquid biopsy—and about 75 percent of the time I get an answer. If I need the tissue test, I'm a week ahead of where I would be otherwise."
Dr. Febbo described how oncologists sometimes must treat a difficult case or rare tumor type that they've never seen and for which there are no treatment guidelines. The unanimous opinion was that CGP provided better insights for rare cases. "People tell me it's hard to order genomics, and I'll often counter, 'CGP is the only test I order in the clinic that actually tells me what I can do,'" said Dr. Patel. "With rare tumors, you'll never regret sending CGP. I've only had people regret not doing it, and when it's something as serious as cancer, how can you not? My view is that all patients should have their tumors sequenced at least once."
"Every oncologist out there knows it is not acceptable to not know the ER/PR and HER2 status in a breast cancer patient," said Rachel Sanborn, MD, Medical Director of the Thoracic Oncology Program and Medical Director of the Phase I Clinical Trials Program at Providence Cancer Institute. "So we need to be able to apply that same level of knowledge to all of our other patients too."
"Reimbursement has to change. That's the big barrier," said Dr. David Bartlett, Chair of Allegheny Health Network (AHN) Cancer Institute in Pennsylvania. AHN Cancer Institute has 23 sites and treats 8,500 new cancer patients every year. Dr. Bartlett said that gaining approvals for therapies and showing data can be a challenge for a community oncologist who sees 25 patients a day, five days a week.
Dr. Sanborn asserted that everyone should have a right to the knowledge that comes from CGP testing, and added that insurance companies need to be more consistent with their reimbursement policies. "Insurance companies need to realize that it's very expensive to treat a patient incorrectly. And so not only are we doing the right thing by treating a patient correctly, sometimes you also have to argue that the right thing to do can be economical as well."
With each passing day, more evidence is pointing to CGP as the best option for cancer patients. CGP can detect biomarkers at nucleotide-level resolution and typically comprises all major genomic variant classes (SNVs, indels, CNVs, fusions, splice variants), as well as large genomic signatures (TMB, MSI), maximizing the ability to find clinically actionable alterations.
This year, ASCO accepted seven Illumina-collaboration abstracts for poster presentations and publication. For a list of the joint studies, click here.
To learn more about comprehensive genomic profiling, click here.
To learn more about the Illumina TruSight Oncology (TSO) Comprehensive launch in Europe, click here.
To read about Illumina's first companion diagnostic claim for the NTRK fusion, click here.