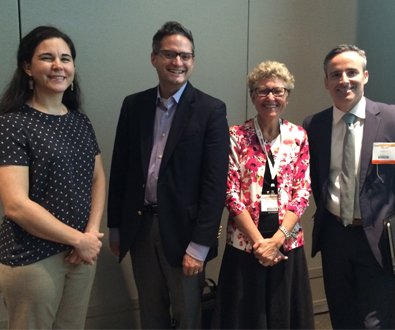 11 November 2015
During the first week in November, the Association for Molecular Pathology (AMP) held its annual conference in Austin, Texas. During corporate workshops ahead of the meeting, Illumina hosted back-to-back sessions where customers shared their experience with implementing next-generation sequencing (NGS) technology, and discussed challenges and opportunities in the field of oncology.
In the first workshop, Dr. Ian King from the University Of North Carolina School Of Medicine described their progress toward solid tumor mutation analyses using an NGS panel. Their validated tumor panel, used primarily for lung, melanoma, and colorectal cancer, has replaced single gene mutation tests.
Dr. Meredith Miller, Director of Illumina's Verinata CLIA lab, spoke next about recent studies describing discordant non-invasive prenatal test (NIPT) results that may reveal unknown malignancies in expectant mothers. Dr. Miller described a retrospective analysis of over 80,000 test samples to uncover "cancer signatures." Genomic material present in the blood may have the potential to monitor cancer development and progression in the future, but sensitivity and specificity have not been determined.
During the second workshop on genomics in oncology, Illumina's vice president of oncology John Leite moderated a three-member panel including Charles Mathews of Boston Healthcare Associates, Suzanne Kamel-Reid of Toronto's University Health Network, and Marisa Needham from Duke University. Guided by audience questions, the panel members gave their perspectives on implementing and validating NGS for oncology and thoughts on practical applications of genomic information. The panel agreed that there is a bright future for NGS because it can be used to profile multiple classes of mutations in a single assay. However, there was also consensus that specific guidelines around implementation of genomics into oncology clinical practice need to be developed and widely adopted before the promise of NGS can be fully realized.