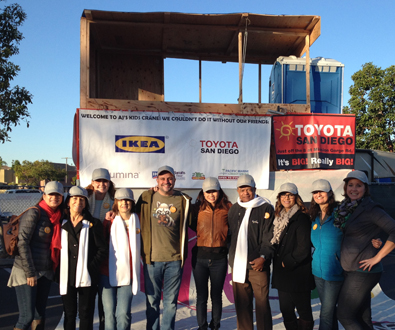 30 November 2015
For the second year, Illumina collected donations of new toys and dollars to support children receiving treatment at Rady Children's Hospital. The donation of 1,075 toys and more than $26,000 will be used year-round to help bring comfort and joy to local children receiving treatment in the hospital.
"We are astounded by our employees' generosity," said Karen Possemato, Chief of Staff for Illumina.
The toy drive is part of a broader community effort, now in its 14th year, led by the AJ Show on the Energy 103.7 radio station in San Diego. To rally community support, the show's host AJ spends a week living in a specially outfitted crane in the parking lot of a local IKEA store while toys and donations are collected.
"Illumina is a company focused on unlocking the power of the genome to improve human health. The success of this annual toy drive in San Diego demonstrates our employees passion and commitment to making a difference – both through technology innovation, and on a personal level for kids receiving treatment – genetic and not – in our own community," added Possemato.
Rady Children's Hospital, located just minutes from Illumina's San Diego headquarters, is the sixth largest children's hospital in the country and the only San Diego area hospital dedicated exclusively to pediatric healthcare. Through its Rady Pediatric Genomics and Systems Medicine Institute, the hospital is assembling a world-class team of scientists, researchers and clinicians focused on preventing, diagnosing, treating, and curing childhood disease through genomics and systems medicine research.