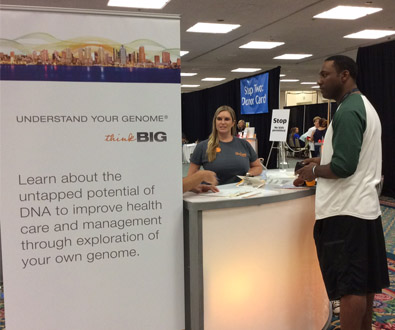 02 December 2015
A pilot program that enables up to 100 San Diegans to donate their genetic information to research in the hopes of finding cures for diseases such as cancer and Alzheimer's got underway in November at the 37th Annual Chargers Blood Drive.
The San Diego Blood Bank joined forces with Illumina and local organizations to enable volunteers to participate in San Diego County's first community-driven genomics research study. The goal of the pilot program is modeled after President Obama's Precision Medicine Initiative, which aims to move medicine from a one-size-fits-all approach to one that is tailored to an individual's genetic makeup.
Sixty-year-old Penny Navarro from La Mesa was among the volunteers who was selected to represent the diverse population of San Diego County.
"This is really the ground floor of something that is going to be a game changer," Navarro said. "If I can contribute in some way to the betterment of the whole community then I consider it an honor to be a part of it."
Navarro and approximately 100 other San Diegans donated an extra vial of blood that will be sequenced and added to a genetic database where researchers will be able to find patterns in diseases and genes and discover ways to target treatment. The volunteers will also have the opportunity to learn about their own genomic results at an Understand Your Genome® event hosted by Illumina in March 2016.
"I lost my brother to cancer when he was very young; I am a breast cancer survivor. I'm really hoping to see what kind of stuff I may be passing along to my grandchildren and have that information help other people," said Navarro. "I really believe that knowledge is power."
At the Understand Your Genome symposium, participants will learn what their genome—their complete set of DNA—means for their own health, their family's health, and how it can impact the community in an educational and experiential format. Participants experience a deeply personal and educational program about their DNA, and will be part of a movement that is pioneering the application of genomics-based health care into mainstream clinical practice.
Dawn Barry, Vice President of Applied Genomics at Illumina, said the pilot program is a great opportunity to learn about genetics and may help transform how medicine is practiced to improve health for all.
"Precision medicine is not just for the community, it should include the community. Doing so not only helps protect the interests and honor the needs of individuals, but may also inspire individuals to participate directly in research," Barry said.
San Diego is uniquely positioned to bring forth these changes because of its rich resources in life science, technology and health care, Barry adds. "San Diego collaborates to compete. This program will not only benefit human health, but will also continue to drive a distinct economy for the region."
By bringing together San Diego's top life science resources and genetic data from its diverse populations, researchers are able to move forward with an initiative that hopes to improve health care as we know it.
"This is how we get ahead. If you don't have human volunteers to do things, then there are human diseases and conditions that will never have a chance to be cured," Navarro added. "San Diego is a center for so many big things and this is one of those things that puts us on the map with a great possibility of helping future generations along the way."