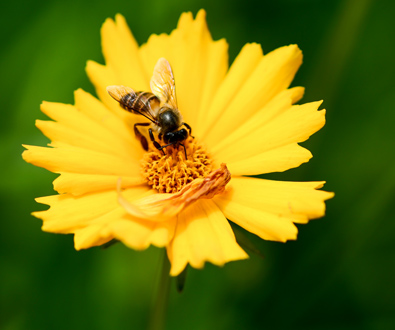 23 May 2016
"Many people don't recognize the importance of honeybees to our economy and our food supply," said Hongmei Li-Byarlay, PhD, a postdoctoral fellow of National Research Council based at North Carolina State University. "Without honeybees, the crops that represent a majority of human food consumption, would not produce fruits and vegetables. Honeybees are the only managed pollinator that can be used in large scale to pollinate these crops."
The economic impact of honeybees cannot be overstated. Pollination from honeybees supports about $15 billion in agricultural production and the crops produced provide sustenance to countless species. However, despite the critical importance of honeybees to our economy and food production, existing strategies have not been able to prevent the 30-40 percent annual loss in the honeybee population, a trend observed both in the United States and Europe.
With a newly minted PhD in Entomology from Purdue University, Hongmei first became interested in studying honeybees during a postdoc at the University of Illinois in Urbana. She found the social behavior of the insects fascinating and wondered whether there was a genetic basis for it. She began using Illumina sequencing technologies to do so in 2010.
Upon learning that she'd won second prize in the Go Mini Scientific Challenge and would be receiving a MiniSeq System and reagents for three runs, Hongmei was in disbelief. "I was so excited, I was screaming in my lab," she said.
Through her research, she will use the MiniSeq to sequence the European Honeybee (Apis mellifera), the most common variety of bee. In addition, Hongmei will study the molecular mechanisms of viral pathogens and diseases afflicting the honeybee population in hopes of identifying previously unknown genes related to immune response and antiviral defense that play a role in honeybee development.
"Most studies in immune response and virus interaction are done in honeybee adults, but we know that the developing stages of eggs, larvae, and pupae are also critical for anti-viral defense," says Hongmei. "If we want to find solutions to address bee diseases, we need to know what caused the bees to get sick and understand the underlying pathogenic processes."
"My study should provide first-hand evidence of the underlying interaction between the bee genome and pathogens, help us understand the molecular basis of viral infection, and provide a foundation of knowledge for future viral pathogen management and disease control," she added.
"Hongmei's study illustrates the versatility of the MiniSeq System," noted Sam Raha, Vice President of Global Marketing for Illumina. "The small footprint of the instrument and lower price point makes it an ideal tool for virtually any laboratory interested in next-generation sequencing. It is designed for researchers like Hongmei looking to sequence small genomes, perform targeted sequencing, and study viruses and pathogens."
Hongmei is very excited to begin working with her new MiniSeq System in her lab. Its speed and ease of use are appealing, and she is excited that she will not need to wait on a sequencing center or core lab to access her data. She thinks the onboard and downstream analysis tools, including the BaseSpace Suite, will simplify data analysis and make cloud storage much easier.
Learn more about Go Mini Scientific Challenge 3rd Prize Winner Una McVeigh and stay tuned to the Illumina News Center to hear more about how epidemiologist and 1st Prize Winner Mattia Prosperi will use his MiniSeq System and MINI Cooper to better understand emerging pathogens in Florida.