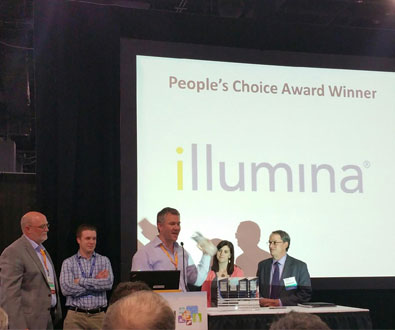 29 April 2015
Illumina was on hand at the Bio-IT World Conference & Expo last week in Boston, sharing its bioinformatics tools with more than 3,000 attendees from over 30 countries. As part of the expo's annual Best of Show Awards competition, the NextBio Clinical team was proud to accept this year's inaugural People's Choice Award.
"The award is especially meaningful to us because it's voted on by the bioinformatics community," said Hinco Gierman, Senior Product Manager, Scientific and Translational Software for Illumina. "It underscores that our customers and others in the biomedical research and drug development communities see value in NextBio Clinical and find the product's capabilities useful."
NextBio Clinical enables users to apply complex genomic data in novel ways across the entire drug discovery and development process. The product is often used by pharmaceutical and biotechnology organizations to incorporate data analysis and interpretation into biomarker discovery, translational research, and clinical trials.