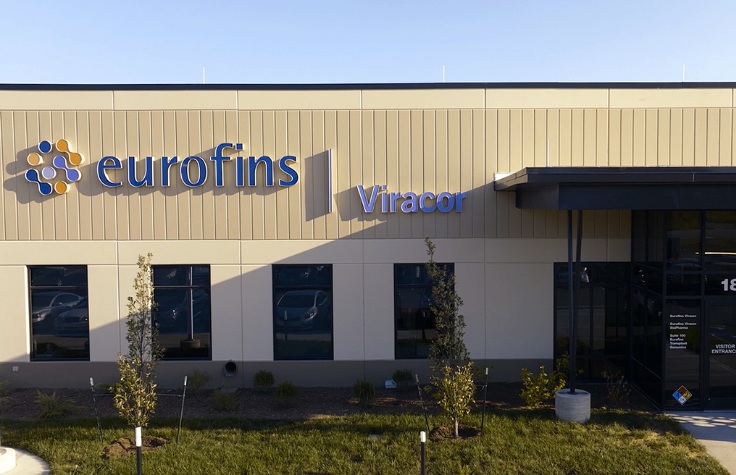 1 May 2023
Around the world, sequencing laboratories are experiencing an increase in the demand for clinical next-generation sequencing (NGS). But with that demand comes the possibility of a bioinformatics bottleneck. No one understands this more than Eurofins Viracor, a clinical diagnostics and drug development solutions company based in Lenexa, Kansas.
At Eurofins Viracor, the Center for Excellence for Bioinformatics & AI is part of a centralized unit that develops clinical diagnostic assays. Director Rohita Sinha says that new cloud technology is freeing up more time to test new hypotheses, which formerly might have taken days or even weeks to test. "All of a sudden, many samples are now sitting on our plate, and clients don't want to wait for one sample at a time to sit in a queue to be analyzed," says Tyler Moss, a senior data analyst, who was part of a transition to adopt Illumina Connected Analytics. "Going on the cloud allows us to do a massive parallel analysis, which really cuts the overall turnaround time."
Once they moved to the cloud, Moss and team were able to reduce turnaround time by at least 90%—from 36 samples per day to 360 for one particular assay—and they expect that trend to follow across all their assays. "Now we can crank that up fairly quickly and know whether we are thinking correctly or have to change direction. So that certainly gives an immense amount of capability to the whole operation," Sinha says.
Eurofins Viracor clients include clinics and hospitals using diagnostics in infectious disease and in areas such as post-transplant clinical care: After a patient receives an organ transplant, they must be treated with enough immunosuppressants to prevent rejection of the new organ, but not so much that their immune system is unable to fend off infections. Sinha's group develops novel assays that will help physicians understand the status of a patient's immune system and predict how likely it is to reject the new organ.
In addition to clinical diagnostics, Eurofins Viracor has a rapidly growing biopharma business, servicing projects that require processing and analyzing large omics data sets. In 2020 and 2021, Eurofins Viracor ran all of the qPCR tests for Moderna's COVID-19 vaccine drug trials.
Moss supports all services and projects that require bioinformatics or machine-learning analysis from large data sets. "Everybody wants to personally move beyond the pandemic, but it did give us a lot of experience developing new assays rather quickly. We now have that pipeline infrastructure in place," he says. In addition to developing novel assays for clinical diagnostics and drug development, Eurofins Viracor can sequence diverse samples (such as those from a drug trial) and perform retrospective analyses.
Moss, whose last position was with MD Anderson Cancer Center, has been helping grow the company's oncology testing business using next-generation sequencing (NGS). Eurofins Viracor recently validated two main pipelines with DRAGEN on Illumina Connected Analytics: TruSight Oncology 500 and TruSight Oncology 500 ctDNA. "Both of those require a large amount of data, especially ctDNA, which we run on the NovaSeq 6000," Moss says. "That generates terabytes of data at a time. To process and analyze that data in house would require us to build out a lot of infrastructure and have more people to manage it. So that was one of the key reasons we moved to the cloud—those FPGA-enabled servers that run the DRAGEN analyses are available through Connected Analytics, and the analysis packages were ready to go."
Eurofins Viracor was one of the first institutions to adopt Illumina Connected Analytics. The Illumina Informatics Services team collaborated with them to help streamline implementation.
"It's very easy to do that analysis," says Moss. "We just upload the data, and then upload our sample sheet. The resources that include all the references for mapping the data and annotating the variants that we identify are all there. And really, it's just clicking a few buttons and starting the analysis."
An exciting future
Recently, Sinha and team developed a pipeline on Illumina Connected Analytics to detect viral DNA from cell-free DNA data. (Read the abstract here.) Moss is looking forward to exploring new applications for biomarker discovery and identifying actionable NGS workflows for areas such as DNA methylation and tissue of origin analysis.
Sinha sees endless possibility in new data types, the increase in publicly available biological data, and the fact that they can now mine it.
"It's an exciting time to be in clinical diagnostics," he says. "We see not only the impact of the advances science has made in identifying new biomarkers, for instance, or new species of gut microorganisms, but we can actually play with those systems fairly well. And now you see the amount of data we can generate. And given technologies like Illumina Connected Analytics cloud computing, even analyzing that amount of data is not a barrier anymore."
To learn more about Illumina Connected Analytics, click here.
To read about the international privacy certifications for Illumina's cloud-based informatics programs, click here.
To learn more about the Illumina TruSight Oncology 500 Assay, click here.