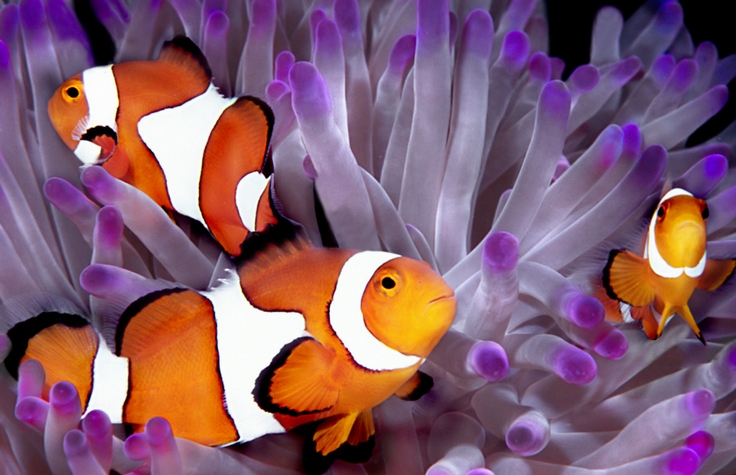 23 February 2018
Following the successful Pixar Animation Studios film, Finding Nemo, there has been an increase in the global demand for clownfish as an ornamental fish species, highlighting the need for a sustainable supply of clownfish via genome-informed breeding and management of wild populations. Both the breeding biology (sequential hermaphrodites) of clownfish and their symbiotic mutualism with predator sea anemones, the stinging polyps that spend most of their time attached to rocks on the sea bottom or on coral reefs, has attracted a lot of interest among the scientific community. In addition, there is intriguing body-color variation in clownfish species warranting investigation into the adaptive basis for such variation.
A recent study highlights the merits of a hybrid assembly-approach to improve the quality and efficiency of sequencing fish genomes. By combining the accuracy of Illumina reads, with long-read sequencing, researchers can now generate a high-quality fish genome quickly and at low cost. Furthermore, genome annotation using Illumina transcriptome data enabled the identification of a key gene associated with the biologically intriguing sex determination process in clownfish.
This is the third fish genome published by the Gan-Austin lab, with help from colleagues at Deakin University (Australia), Monash University (Malaysia), and the Museum and Art Gallery of the Northern Territory (Australia). Together, Professor Chris Austin and Dr. Han Ming Gan began their fish genomics journey with the 'Lucky' endangered lucky fish (Asian Arowana), followed by Australia's largest freshwater fish (the Murray Cod) and now the clownfish species – Nemo.
Having these new genomics resources for Nemo will provide a major impetus for research into understanding the biology and behavior of this charismatic species, its position in the fish family tree, and will assist with the sustainable management of natural population and conservation. The Deakin University genomics research team is now looking forward to sequencing even more fish and non-model organisms to address important questions in evolutionary biology and genomics. To do so, they are utilizing their new Illumina NovaSeq™ 6000 System, and recently performed a successful first, in-house run in January 2018.
To read more about sequencing Nemo, click here.
A special thank you to Professor Chris Austin for helping write this article.