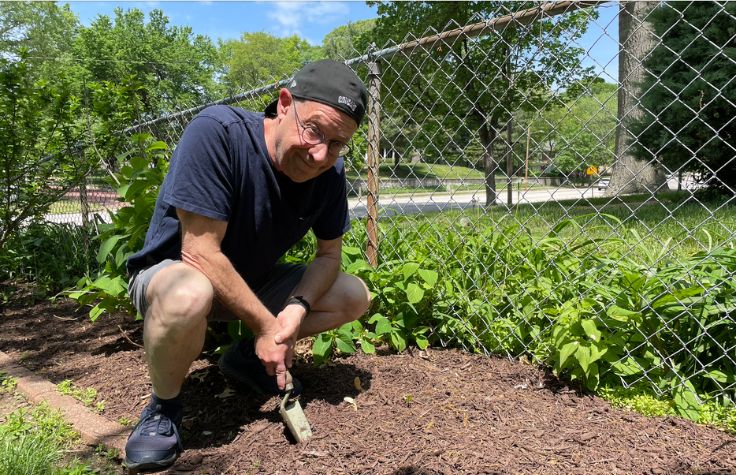 27 June 2022
When microbiologist Dr. Barry Goldman reads alarming reports about threats such as pests and climate change affecting the world's food supply, he believes the solution is local—as in really local, as in his own suburban St. Louis backyard. There, in the soil beneath the shade of majestic oak and maple trees, are a bounty of microbes—strains of bacteria, fungi, and viruses—that he's convinced have the power to solve some of the world's worst problems. If identified and cultivated, they could kill disease-carrying mosquitoes or prevent other insects from destroying crop yields—at a time when demand for agricultural products is expected to increase by 50 percent by 2050 and the amount of farmable land dwindles.
To prove his point, Goldman recently launched a study to see what was in his own garden dirt. From 10 sandwich-sized bags of soil that were collected by his wife, he found 10 novel microbes that could kill the Aedes aegypti mosquito that transmits the Zika virus. His team has since found 50 more microbes that are natural insecticides. "There's so much biodiversity in my own backyard alone. Imagine what solutions we could find if we were able to leverage the trillion or more microbes estimated to exist on the planet," says Goldman, referring to 2016 Indiana University research that predicted the earth is home to as many as one trillion microbial species.
That potential gave Goldman the confidence to leave his 18-year career in synthetic biology, first in multiple roles at the agricultural biotech giant Monsanto and later as the VP of Research at Indigo, and launch a startup called Pluton Biosciences with five co-founders in 2017. It's based in St. Louis, which he says is a good Midwestern home base with plentiful talent to grow a company. A member of the Illumina Accelerator SF Bay Area 2020 cohort, Pluton has raised $6.7 million in seed money. The funds will help develop a discovery "micromining" platform for next-generation biosolutions including pesticides and climate solutions for carbon sequestration. He plans to launch a Series A round of funding later this year.
Goldman says sequencing only recently made such discoveries possible. "The technology didn't really exist until Illumina made all the difference," he says. Before advances in sequencing, scientists were resigned to the inefficient method of looking at a single colony of microbes at a time. "But if there's a trillion species, it would take forever to look at all of them," he says.
If you can imagine the problem, a microbe can solve it.
The Pluton team uses the Illumina NovaSeq™ 6000 S4 Reagent Kit as part of the NovaSeq™ 6000 Sequencing System at the Genome Technology Access Center, a lab inside Washington University's McDonnell Genome Institute. There, the Pluton team can sequence more than 2,400 soil samples—at 50 million reads per run—in less than four months. "We're able to use comparative genomics to see why certain samples work, to understand the mode of action that kills the insect," he says. The secret is a "population approach" that combines sequencing with computational power that can sort data and detect patterns. "In every tablespoon of soil, there are tens of thousands of species of microbes," he says. "If I sequence massively and use computational biology, I can find a lot more stuff, much more quickly. That's our platform."
An organic alternative for pesticides
Goldman is betting there's a market for an organic alternative to the practice of synthetic biology. That process, which involves identifying new genes to put into plants to kill the insects that damage them, is expensive and can take nearly a decade to commercialize. Pests can develop resistance soon after a new compound is introduced. Then there's the fact that many people don't want synthetic chemistry in their food. "Microbes are the next generation of crop protection," he says, ticking off their advantages: As the cost of sequencing dropped in the last few years, they became cheaper to discover and quicker to bring to market—about a year and a half on average. Plus, there's a virtually endless supply. "If there's a trillion species, pests can never become resistant to all of them," he says.
The company is currently focusing on pesticides and carbon sequestration solutions. The company is also working with life sciences company Bayer AG to develop what he calls a "microbial cover crop" that would use microbes to pull carbon out of the air and store it in the soil. "We believe we can remove nearly two tons per acre. That's a huge amount," he says. "Imagine if we could do this everywhere. We could remove a third of the damage humanity does every year. Plus it would improve the soil." Beyond these approaches, Goldman says there are countless other eco-friendly applications to explore. "Our tagline is if you can imagine the problem, a microbe can solve it." For example, there are microbes that degrade plastic and could be used to get rid of the trash vortex in the Pacific Ocean.
Right timing
Goldman says the timing is right to take on the job of a startup. His four children are grown, and he feels prepared to take on such a risk in his professional and personal life. And of course, the science is ready. "If this technology could be used around the world, we could find more ways to protect the crops we'll need to feed everyone," he says. "That's the dream."
Visit Illumina's Corporate Social Responsibility page for more information on how genomics and Illumina technology are helping solve some of the world's most challenging and pressing issues for human health and beyond, like climate change and food security.